Someone cannot be made into something they're not. Rachel Chu (Constance Wu) is not a millionaire. But, she is a self-sufficient Chinese-American, growing up in the US when her mother left China for a fresh start. In the process she's become the youngest professor in NYU's history, teaching game theory. In between it all, she's found the love of her life in Nick Young (Henry Golding).
It's that point in the relationship where it's time to meet the parents and the family (sound familiar?), and Nick's live in Singapore. Never revealing much about them, it shocks Rachel when they're traveling overseas via first class to see Nick's best friend get married. Why? Nick and his family aren't just stacked with cash, but the power family in Singapore as wealthy real estate developers. As Rachel begins to hob-knob with Young elite—including her boyfriend's mother, Eleanor (Michelle Yeoh)—she finds that her charming, intelligent persona might not be enough for the Young clan. Nick loves Rachel, but does it matter if his family doesn't?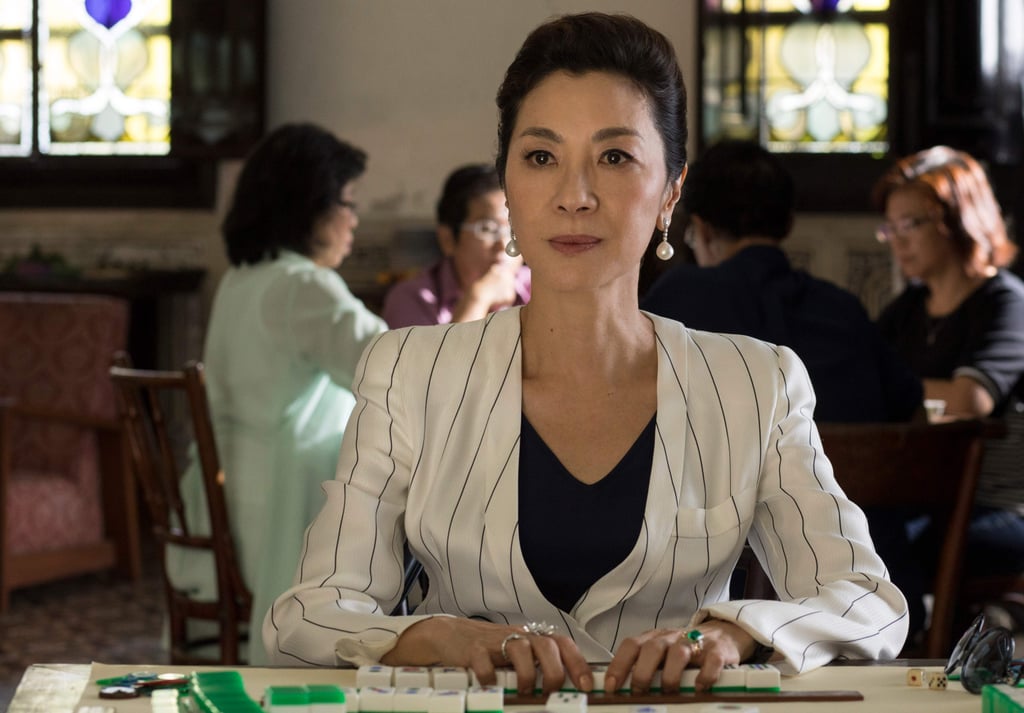 If Hollywood has taught us one thing in the year of 2018, it's that the theme of identity is a hot one. Primarily, it's been limited to African-American centric films in Black Panther, Sorry to Bother You, and Blindspotting. However, more representation is never a bad thing, and the Asian-American populace is getting it in Crazy Rich Asians, a rom-com adapted from the 2013 novel with the same name. It's sugary, and slightly substance-lacking compared to others in similar ilk, but overall, Crazy Rich Asians is a breath of fresh air.
Director Jon M. Chu, known primarily for a few Step Up sequels, GI Joe: Retaliation, Now You See Me Two, and documenting Justin Bieber at the height of his fever, easily comes out of this with his best movie of his catalog. His movies may lack substance, yet at the very least, Chu has shown the ability to direct with some energy and zest. Crazy Rich Asians is no different; this is obviously no blockbuster, but, the production is decidedly higher than the average rom-com. There's a pomp and circumstance and regalia to it all, a spectacle as grand as the Royal Wedding. This is highlighted in the big band-heavy score (blended with locale-specific sounds) composed by Brian Tyler, a man who has lent his talents to many a blockbuster. Crazy Rich Asians is no Avengers, however, it's right at home being released in the summer season.
Like some fellow summer fare can be, Crazy Rich Asians lacks a fair deal of substance—at least for the first 40 or so minutes. Beautiful to look at and enjoyable, but empty calories with little desire to be more. Once a certain run-time point is hit, the movie begins to show compelling layers; mainly as they pertain to the differences in culture between a group who share the same identity to outsiders, when in actuality being very, very different in beliefs and customs. Though it's obviously framed through the lens of Chinese customs, Crazy Rich Asians should connect with anyone who's ever been on the outside of something trying so desperately to get on the inside.
Crazy Rich Asians definitely borders on being a bit much in areas, from the excessive extravagance to the slightly long runtime to the oodles upon oodles of characters; many of whom don't matter at all to the script. The movie ultimately works because of its main cast, all of whom work well together. To be successful, a rom-com has to firmly answer one simple question: Do I want to see these two end up together happily ever after? In Crazy Rich Asians, that answer is a resounding "Yes."
There may not be a sweeter on-screen romance than the one Wu and Golding have, they convinced me they're a couple in real life. In the running for villain of the year is Yeoh, an ice queen capable of sending chilliness in one glance. Thankfully, the writing for her is not one-note, and Eleanor is a fleshed-out character with a backstory that gives her pathos. A few side characters and actors have an opportunity to shine here and there to keep things breezy as needed.
Rich with style and sweetness, Crazy Rich Asians doesn't rewrite the rom-com genre (check out The Big Sick for that). But, it does retell a story with its own unique and crazy flair.
B
Photo credits go to frontrowfeatures.com, ew.com, people.com, and nytimes.com.
For additional detailed thoughts on films both small and large, games, and the key moments that comprise each, check out ThatMomentIn.com. 
Follow me @MovieManJackson/@Markjacksonisms