Everyone has family. Everyone. Away from the countryside and back in present day Los Angeles, the legend Dominic Toretto (Vin Diesel) has fully embraced fatherhood with his longtime wife, Letty (Michelle Rodriguez). Little Brian (Leo Abulo Perry) is a preteen now, and his father is dedicated to making sure he becomes a better man than him.
On the subject of fathers, Dante Reyes (Jason Momoa) lost his, crime boss Hernan Reyes (Joaquim de Almeida) on the bridge the day Dom and Brian pulled off the heists of all heists in Rio. Once the heir to the fortune in that safe, Dante has spent the last decade formulating a plan to take down Dom and anyone who has ever had a hand in helping him—from Jakob (John Cena), to Cipher (Charlize Theron) and Deckard (Jason Statham) along the way.
His plan starts by luring the immediate members of the family: Tej (Ludacris), Roman (Tyrese Gibson), Ramses (Nathalie Emmanuel), and Han (Sung Kang) into Rome under the guise of a mission presented to the crew by the Agency that Roman—eager to stretch his wings as a leader in waiting to a now part-time Dom, jumps at the opportunity for. Once that "mission" is proved a sham, the family is not only separated but wanted once again as fugitives. This may be the last ride for Dom and co.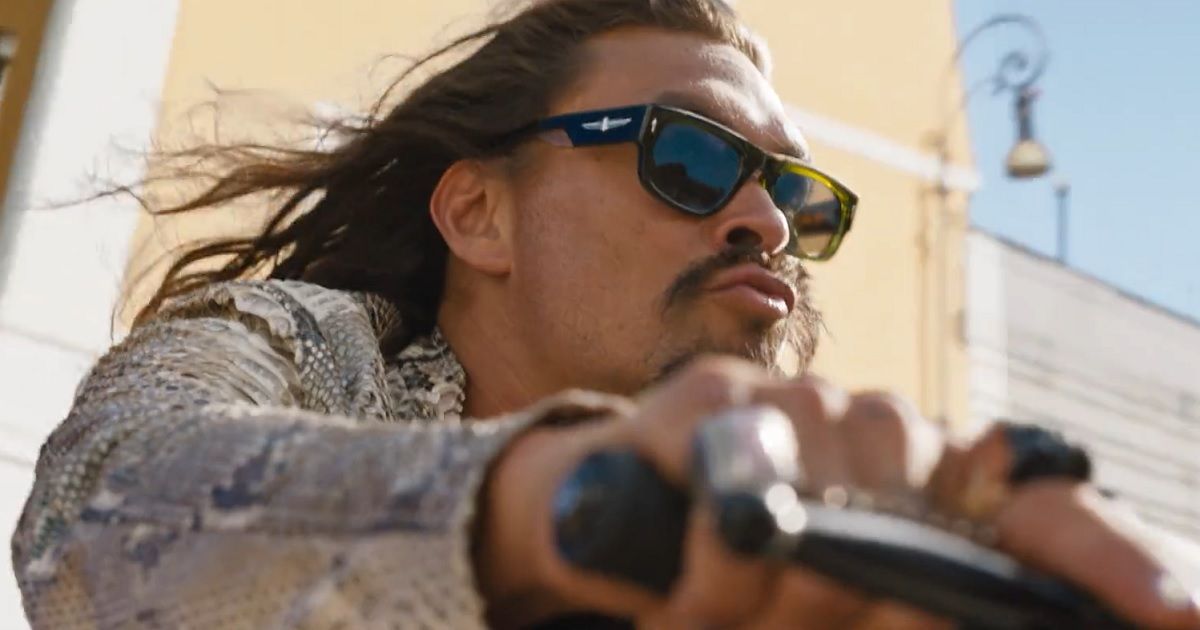 Fast Cross? Fast Kiss? Fast Missing Variable? Very poor title jokes aside, Fast X is officially the 10th movie (11 if we count the spinoff of Hobbs and Shaw) in the franchise from humble beginnings. Like some of those titles, not much makes sense in many of these movies, but honestly, not much has made real sense narratively since the seminal Fast Five and from an emotional/natural ending perspective, Furious 7. Don't try to make sense of Fast X, even if this mere review tries to.
There are three things promised in this world: Death, taxes, and Fast and Furious behind the scenes controversy. Whether the untimely passing of series glue Paul Walker or the clashing of mega-egos in Diesel and onetime franchise Viagra Dwayne Johnson, there's always something going on with F&F as the series has gotten bigger. That something in Fast X happens to be in the driver's—err, directorial—seat, where Louis Leterrier replaced the man who leveled up F&F in Justin Lin, the latter leaving due to creative differences with Diesel.
Conceptually, the films are based on three elements: Things that go boom, things that go vroom, and a few gratuitous gluteus maximus shots at some party/pre-race scene. Action director vet Leterrier checks all three with the biggest highlight being a literally bombastic sequence in Rome. Interspersed between large set pieces are the occasional hand-to-hand fights. There's a lot to keep up with and many of these scenes are recreations (cardiving, dragging the safe) of better ones from earlier features, but they're coherent; albeit oft CGI-reliant, with the help of editors Dylan Highsmith and Kelly Matsumoto.
There are movies with multiple plot lines, and then there is Fast X. Calling this story helter skelter in presentation is probably being conservative; at least five running threads exist spanning the entire world, and embedded within these are new characters featured prominently who often have some DNA ties to a previous mid-level character because salud mi familia. Disorienting. At least there's no "Nightshade" or "Aries" doomsday device to chase after (though give Furious 7 this: God's Eye has proven to be a functional piece to these later installments); Fast X is rooted in pure revenge. Not that this is novel for the series, Deckard and Jakob were motivated by the same thing but it was folded into the aims of a bigger bad. In that sense, the "core" of Fast X is easy to identify. Additionally, what is easy to identify is the short memory each subsequent movie has with antagonist morality and character mortality. Hilariously, no one is truly irredeemable, much less gone forever. I'm pining for the days of Carter Verone and Arturo Braga, as they comparatively had complete hearts of gold and would fit right into the family barbecue.
As these films have become bigger and bigger with more megastars (hello Brie Larson, Daniela Melchior, Rita Moreno, and Alan Ritchson) coming into the cast fold, ironically the series' story attention has fixed itself solely on Diesel's Dom in later flicks, and Fast X is no different, sticking most of the crew with less efforts to shine outside of Tej/Roman quips. Part of the comedy of these is the stone-faced actor continuing to play the part with visions of an Oscar nomination and continuing his attempt in resembling his early 30's look for the character despite being 20 years older. A little facial hair could go a long way! His opposition in this one is Momoa, an absolute embodiment of pure manic energy with a dash of systematic deliberation the minute he arrives in the present day. Won't work for everyone, but at least one can say it's a noticeably different element in a 20+ year-old franchise.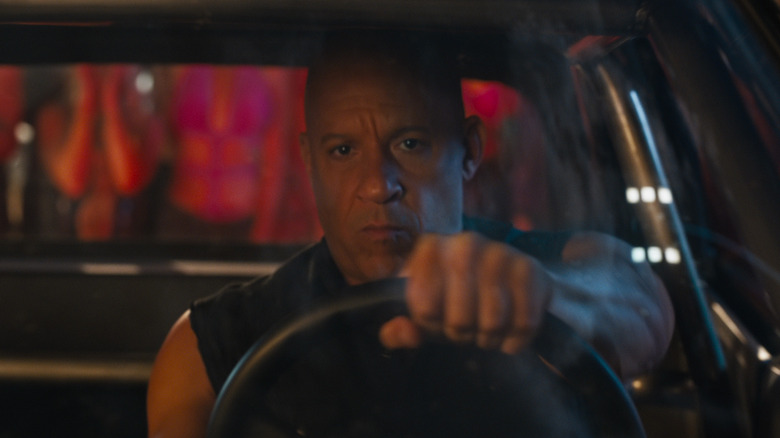 Honestly, in Fast X it's rather impressive how it is kind of stripped back while also being bloated like never before, but the mere deep connection to Fast Five is meta-admission that the series is searching for the adrenaline boost that movie had. Is it "good?" I don't think so, but when it comes to summer blockbusters, it don't matter if by an inch or a mile. Winning's winning, even if it's by an inch here.
C+
Photo credits go to slashfilm.com, wlos.com, and IMDB.com.
For additional detailed thoughts on films both small and large, games, and the key moments that comprise each, check out ThatMomentIn.com.