Rich men are born with opportunities they can waste. Poor men…they're simply out of luck and often from the moment they are conceived. In India, the longstanding caste system forever adheres itself to an individual. The one in focus here is Balram Halwai (Adarsh Gourav), an intellectually smart youngster who has the capacity to change his and his family's situation…if only he were not born in said situation. Early on, Balram is forced to ditch his dreams and support his family in menial work around his village.
He wants more, and he is going to get it. Not without some shrewdness on his part. He seeks out a powerful couple with ties to his village in Pinky (Priyanka Chopra-Jonas) and Ashok (Rajkummar Rao), finding work as their #2 driver and indentured servant. Being an indentured servant is almost like being in the penthouse for Balram, and he cherishes it. But one quick incident swiftly reminds him how little he truly has. From here, Balram plots his own path to success, with no shackles involved.
Netflix's new movie in The White Tiger is something of a cross between Parasite, Slumdog Millionaire, The Big Short, and even Nightcrawler. Adapted from the book with the same name, it's a pretty sizzling critique of not only India's caste system, but any system that heavily relies on inequities being a determinant or the determinant of an individual's success in life. Intrepid and incisive, it is quite a watch.
Tasked with adapting author Aravind Adiga's novel to the silver screen is director Ramin Bahrani, probably known more to American audiences for 99 Homes and Fahrenheit 451. Similar to the book, Bahrani does not direct the movie linearly, using Balram as a narrator, reading his composed letter to a visiting foreign official. The story lives primarily between two places that he highlights with his camerawork, the glitz/glamour of New Delhi accompanied by energetic rap and Bollywood music, and the grime/ghetto of the Gaya district fit with a relentless drudgery and a fatedness to nowhere. Fourth-wall breaks are used too, sometimes to inject dashes of humor. However, at other times, it breaks up the flow in the movie and comes off as unnecessary.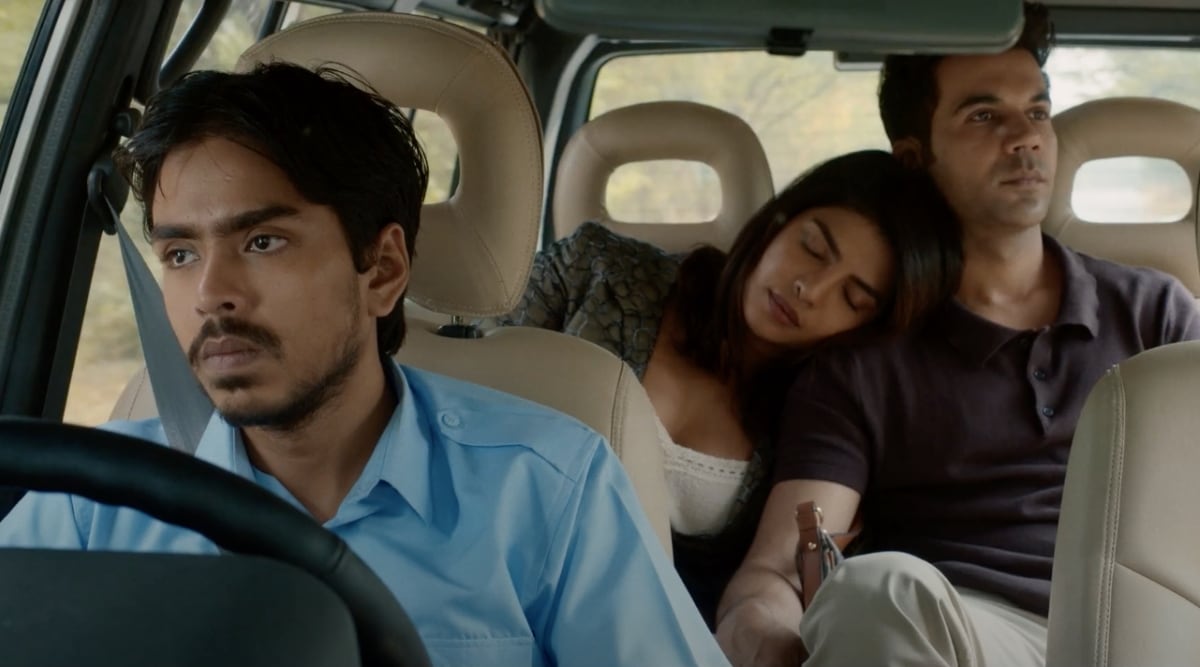 Beginning essentially in medias res, The White Tiger's first half is devoted to building to the shown moment, detailing the inner workings of the caste, as well as the positives and negatives of Balram's new success as a driver for the elite. It is all required for a cohesive story, but, that does not mean that there is not a feeling of slightly running in place before the inflection point. Post-inflection point (a.k.a. the middle of the film and on), the energy gets turned to 11, and the double/triple meanings to the film's title and the repeated mentions of the metaphorical rooster coop fully crystallize. Remember that famous quote from Dimitri Rascalov in Grand Theft Auto IV? "We can pick the game, Niko Bellic. But we cannot change the rules." The final 10-15 minutes of the feature are equally semi-inspiring and coldly horrifying. We're not meant to sympathize with the choices Balram ends up making, we're merely asked to rationalize them.
And as for the guy who plays him, Gourav is something of a revelation. His performance cannot be quantified as dynamic or attention-grabbing in the way acting is thought of, though his turn here is extremely methodical and cerebral. You can see him turning the gears in his head both as the story is being told and as he is telling it. Receiving a lot of rightful awards consideration is Chopra-Jonas, who is easily the second most-intriguing character of the movie. Wise enough to question her surroundings, but powerless—and just a bit reticent—to make a real effort in changing them. She is not quite the fulcrum of the movie, yet she is an important enough piece to it that when she leaves, The White Tiger loses momentum for a stretch before it gets back on the right track.
The White Tiger is one of the finest films detailing a human's evolution into a complete chaotic neutral individual. As it would suggest in its theme of globalism, there is no American Dream, Indian Dream, or cultural dream. But there is one universal dream, and the central tenet is securing personal freedom at any cost.
B
Photo credits go to slashfilm.com, impawards.com, and indiewire.com.
For additional detailed thoughts on films both small and large, games, and the key moments that comprise each, check out ThatMomentIn.com. 
Feel free to follow me @MrJackMarkSon