It has often been said that to be a legendary musician, having a big-time ego is not only natural, but necessary. Ma Rainey (Viola Davis), known as the "Mother of the Blues," knows her importance in 1927. People come to see her, and her manager, Irvin (Jeremy Stamos), has booked her and her quartet of traveling musicians a recording session in a small, cramped Chicago studio. Money is to be made, and all it will take is 30 minutes.
Recording sessions rarely go off without a hitch though. As double bassist Slow Drag (Michael Potts), pianist Toledo (Glynn Turman), trombone/guitar player Cutler (Colman Domingo), and Levee (Chadwick Boseman) wait on Ma, the room becomes contentious, with questions arising on what it means to be a musician and what freedom and opportunity looks like. This is all before the lead singer shows up, who will only add to the chaotic nature once she does.
When the late and great Boseman passed away in late August, Ma Rainey's Black Bottom was tagged as a must-see event, as it is the very last time we'll be able to see the talented actor. In many ways, this is his movie and would be whether he was still here or not, despite being a supporting actor. All that said, one cannot minimize everyone and everything else at the expense of him, because Ma Rainey's Black Bottom is a very well-put together movie.
The film is the 2nd silver screen adaptation from legendary playwright August Wilson, the first being Fences in 2016. This time, the direction is handled by George C. Wolfe, he himself a playwright. Even more so than Fences, the meat of "MRBB" is really confined to one location. Claustrophobic is the wrong word; nevertheless, the film is very propulsive and aggressive, perhaps a result of its 90 minute runtime. There's no drag here. Plainly put, Wolfe does his job, but Academy nods could be in store for editor Andrew Mondshein and the numerous individuals who composed the design of costumes (Ann Roth), makeup (Matiki Anoff), set (Karen O'Hara, Diana Stoughton) and production (Mark Ricker). Strong acting work only goes so far in certain films if the ancillaries are missing.
Little of a nuts and bolts plot exists in Ma Rainey's Black Bottom, and that isn't a bad thing. All that means is the story is made by its characters and where each of them is as people at this particular point in the movie's time. For the seasoned vets, they're content with the proverbial mindset of clocking in and clocking out. For others like Levee, they're hellbent on disrupting the status quo, taking a backseat to no one and forging a destiny of their own doing. Lastly, someone like Rainey demands that it's her way or the highway, fully realizing the alpha position she holds gives her the opportunity—however small in the grand scheme of things—to bend people over a barrel and exact some measure of power. The common thread between them all no matter how they choose to navigate this world is they are all fighting the same societal structures and powers that be, their experiences revealing deep traumas through engaging dialogue written by Ruben Santiago-Hudson. An end scene of epilogue sorts reaffirming what has been known for decades feels unneeded, but otherwise, the execution is natural.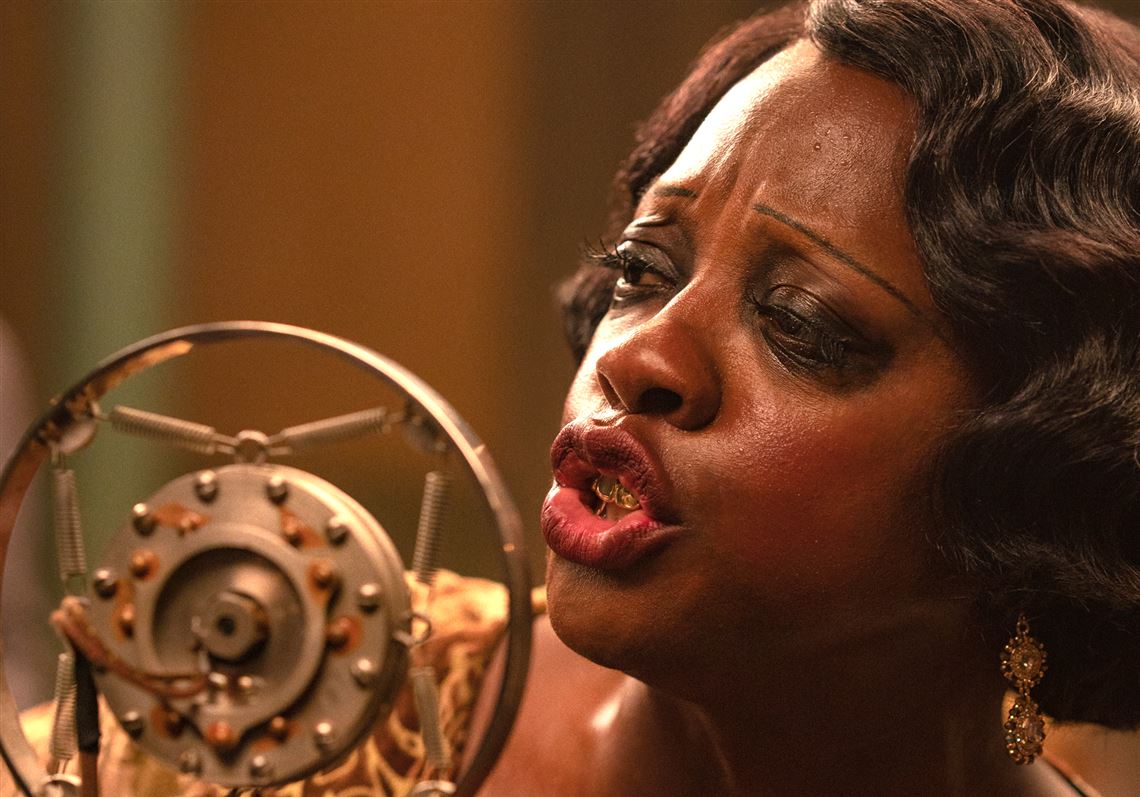 For some, a film this talky won't be everyone's cup of tea. But when the dialogue pops off the print and the cast serve as perfect ciphers for it, it is difficult not to become engrossed. Boseman is special, and as stated in a recent episode of The Big Picture podcast, it is cool to see him in a role that puts him more as the spark instigator and not the always composed reactor. As she tends to do, Davis again dissolves in a performance, not letting the makeup and physical transformation overshadow her work. These two don't share a lot of screentime, but the energy is electric when they do. A good chunk of the feature positions Domingo, Turman, and Potts opposite Boseman where character depth is revealed. The elder threesome struggle to find common ground with their brash upstart. All are wonderful, specifically Domingo whose character repeatedly butts heads with Boseman's.
With a phenomenal cast, astounding time setting re-creation, and a self-contained narrative flow, Ma Rainey's Black Bottom is a great snapshot movie using an actual legend among fictional characters. It is a superb send off to a one-of-a-kind man who, like the individual he portrays, was focused on creating his own legacy.
B+
Photo credits go to impawards.com, yahoo.com, npr.org, and today.com.
For additional detailed thoughts on films both small and large, games, and the key moments that comprise each, check out ThatMomentIn.com. 
Feel free to follow me @MrJackMarkSon.