If the answers we seek may just be outside our reach, what does that imply about the questions? Following in the footsteps of his father, legendary astronaut Doctor H. Clifford McBride's (Tommy Lee Jones), Major Roy McBride (Brad Pitt) has carved quite the resume himself, repeatedly proving to be the coolest customer in the hottest of mission crises, compartmentalizing emotions at the cost of personal relationships. Once again, he's called on after surviving a bizarre incident on a space antenna that's ascertained to be one of many power surges that can—and will—wipe out life if continued uninterrupted.
The origin of the power surges is traced to Neptune, which happens to be the last known location of Clifford, who disappeared along with his crew 16 years ago conducting research on what was known as "The Lima Project," aka "Is there extraterrestrial life?" It's strongly believed Roy's father lives and knows about the surges. Roy's tasked with traversing the universe to not only save mankind, but on a smaller scale, saving himself from what he is becoming.
In this decade, there's been a sci-fi space movie for about everyone. Like pure spectacle? Gravity fills that want. Desire heady—if sort of clunky—scientific ideas melded with themes of love? Interstellar says hello. Want a relatively straightforward rescue mission with accurate details? The Martian should suffice. Purely after a biopic? Lift off with First Man. And now, Ad Astra throws its hat into the galaxy arena, doing a little bit of what all those movies did. It's not going to be what everyone prefers out of a sci-fi space epic, though for some, it may be the strongest of the lot.
Unlike those other directors of the aforementioned movies who've directed "epics" before in some way, shape or, form, Ad Astra is James Gray's first stab at one. If the trailer didn't quell any concerns about his ability to handle something of this magnitude, the first ten minutes do with an absolutely stunning set piece culminating with a free fall from the sky. Gray doesn't spend the entire runtime falling, floating, or exploring, but whether on Mars, the Moon, Neptune, or empty space, he and cinematographer Hoyte van Hoytema craft the right atmosphere and design for whatever locale Roy and sometimes company find themselves on.
As much as Ad Astra shines in its grand pulse-pounding scenes, the scenes of simple, Blade Runner 2049-like psychological evaluations and dossier reveals are no less special either. The presentation is surrounded with a meditative score from Lorne Balfe that accentuates but never overpowers. Coolest (or maybe scariest) thing about Ad Astra? Collectively, this future feels astonishingly real, or at the very least, not that far away.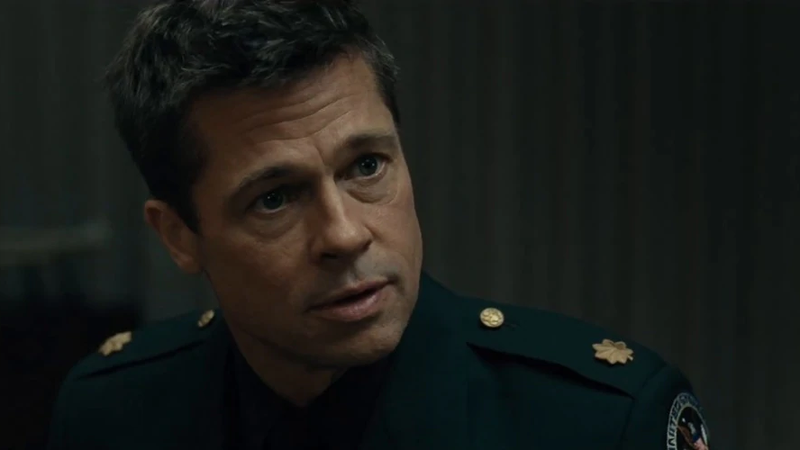 There's little to gripe against regarding the technical merits. Where Ad Astra's divide will be pertains to its story. The initial question of whether there's extraterrestrial life or not becomes rather inconsequential (though Gray and co-writer Ethan Gross don't completely abandon this) roughly halfway through the film—and a certain percentage of the audience won't enjoy this direction and may check out for good. It's understandable, but to do so overlooks a detailed character study and complete arc that the two carry out. It also overlooks the fact that Ad Astra, despite being set in space, sets up this being a personal journey very early in the film. Any misconceptions at that point may fall on the viewer. They lean on the inner monologue structure, which too will be annoying to some. However, it allows the audience to better understand Roy, an aloof character of whom we'd never get to know otherwise. Save for a 10-minute stretch at the end which comes off as semi-Hollywood-ized, Ad Astra is a film that is awfully grounded, a unique slant for something of this ilk.
A big part of that is attributed to Pitt, his methodically controlled mannerisms concealing a glut of emotions that slowly but surely come to the forefront the closer he gets to the truth on The Blue Planet. Showy, his performance is not. Still, Pitt's nuanced work should not go unnoticed here. Neither should Jones' contribution, his strongest showing since Lincoln. The lack of other significant characters will likely frustrate a good chunk of the population. Honestly, it's kind of refreshing to see a space drama distilled to core components.
A gorgeous portrayal of space and a tight story of a son finding himself away from terra firma, Ad Astra is one of the year's more compelling viewings on multiple levels. It's been less than a full week since release and it already feels like it's forgotten. It shouldn't be.
A-
Editor's note: The score was composed by Max Richter, not Lorne Balfe.
Photo credits go to inverse.com, vanityfair.com, and comicbookmovie.com.
For additional detailed thoughts on films both small and large, games, and the key moments that comprise each, check out ThatMomentIn.com. 
Follow me @MovieManJackson/Markjacksonisms