Karate master and street hustler…just not a wearer of cotton draws. That's Dolemite (Rudy Ray Moore), a suave pimp with a full harem of females who follow his every step. Currently, the man is serving 20 years after being found in possession of narcotics. He was framed by his rival, one Willie Green (D'Urville Martin), who's benefited in his absence with a growing empire and protection from the local law enforcement in exchange for rallying the black populace to support Mayor Daley (Hy Pyke) in his re-election bid.
Dolemite is paroled in an effort to help bring order to the streets, though it's soon made evident that people want his head. Surviving an early hit, he returns to his operation to now find that his business partner, Queen Bee (Lady Reed) has been teaching Dolemite's girls self-defense in preparation for something big. Armed with this, he begins to plot a takeover of what he once owned.
You must look at blaxploitation differently. The genre's heyday in the 1970's had a propensity to put out bad movies that probably shouldn't have been released. But despite limited budgets and rudimentary-at-best directors sometimes struggling with 101 camera concepts, the genre did manage to put forth many movies and characters within those works that stood the test of time and became super influential across many mediums. Dolemite is one of those characters, and one of those movies.
Martin plays the antagonist, and he's also the director. Dolemite is laden with framing issues, sound flubs, clunky fight choreography, editing gaffes, and more general inconsistencies, doused with some gratuitous nudity. However, it's still watchable and a little charming all the same. It never really lacks for energy (only dragging when scenes don't include Moore and other actors/actresses are used to verbally move the plot forward to poor effect), powered by music with contributions from Soul Train creator Don Cornelius, Arthur Wright, Ted Brinson, and Moore himself.
Even by blaxploitation standards, the story of Dolemite–-written by Moore—is pretty weak, never doing enough to crystallize its lead as a good guy in a bad profession. He's the lesser of many evils, the devil you know as opposed to the devil you don't. However, there's power in a film that doesn't stay around too long, and Dolemite wraps everything up in a tidy 90 minutes.
What does work in Dolemite is its tone. Dolemite has action moments but is undeniably a comedy first and foremost. It was a character conceived by Moore from a local homeless man who ranted and raved about the exploits of an urban hero "Dolemite" that began as one of the comedian's alter egos on stage. So as much as Dolemite is unintentionally funny due to its production, it's also intentionally funny, with 90% of that being attributed to Moore as the titular character.
As Dolemite, Moore is balls-to-the-wall politically incorrect profane, and full of vigor with style that would make Russell Westbrook and Cam Newton blush. Whether he's giving it to the cops, making love to a traitor, or telling stories to the willing street clientele, he's electric in just about everything he's asked to do. While he does lack the smoothness of Ron O'Neal in Super Fly and the physicality of Richard Roundtree in Shaft and Fred Williamson in his films (Black Caesar, Hammer), his Dolemite is in a class of its own. Those films had comedy but leaned on a little more grit and implicit political statements, whereas Dolemite is goofy from the jump. There's a level of awareness that the film carries that makes it all the easier to go along for the ride.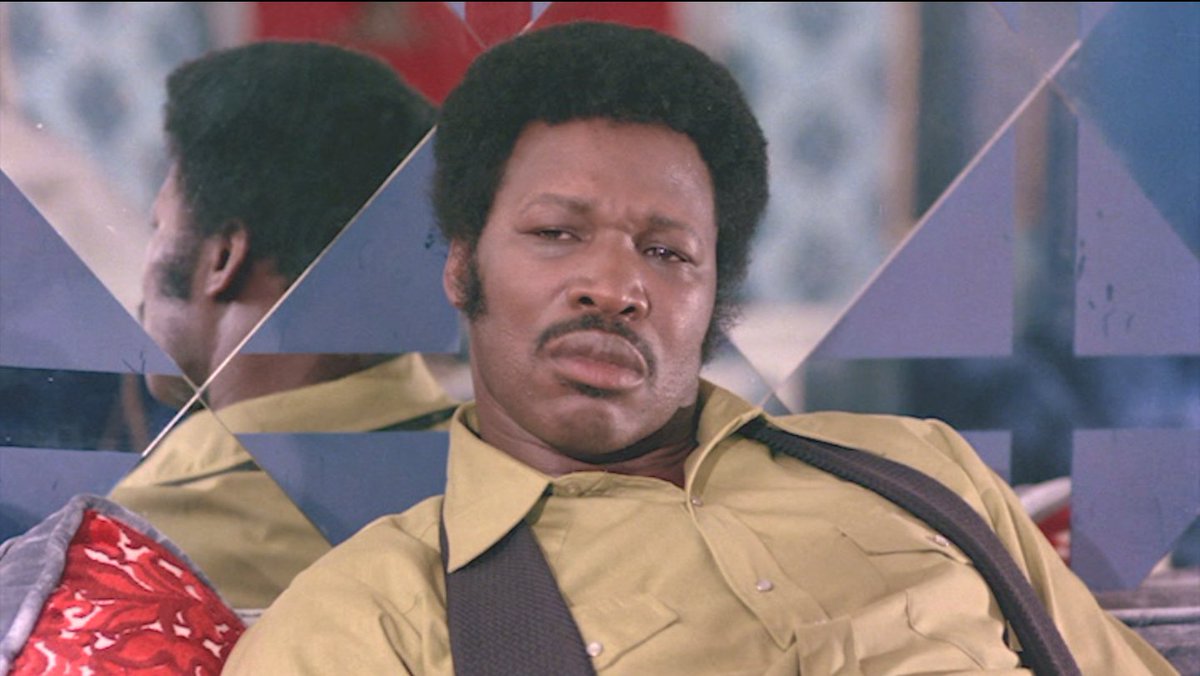 The wide-reaching influence Dolemite had can be seen everywhere from the WWF/E (The Godfather) to the rap titan Snoop Dogg himself—who has gone on record saying there's no him without this movie. One great comedian should be honored for his contributions by another. Eddie Murphy should kill it as the man who proclaimed that f**kin' up motherf*****s was his game.
B-
Photo credits go to Twitter.com, IMDB.com, flickeringmyth.com, and dangerousminds.net.
Follow me @MovieManJackson/@Markjacksonisms