It's never goodbye. Out in New York City, Billi (Awkwafina) has resided for quite some time with her mother Jian (Diana Lin) and father Haiyan (Tzi Ma). She loves China, but they left when she was very young for better financial opportunity in the states, as well as better future prospects for Billi. Never saying goodbye to her close-knit, Chinese family has always left a bad taste in her mouth. Her memories of home come from her grandmother Nai Nai (Zhao Shuzhen), of whom she stays in contact with constantly.
Billi's world is about to get rocked, however. A weird family dinner with her parents reveals that Nai Nai is diagnosed with Stage 4 lung cancer and has three months to live, which prompts them—along with all of the direct and extended relatives of Nai Nai—to travel to Changchun, China to spend time, minus Billi. Why can't Billi come? She's too emotional, and per Chinese customs, a person who's dying and doesn't know it shouldn't be told of such bad news. Under the guise of a wedding, all congregate in their homeland, including Billi in a surprise. Can she keep a secret?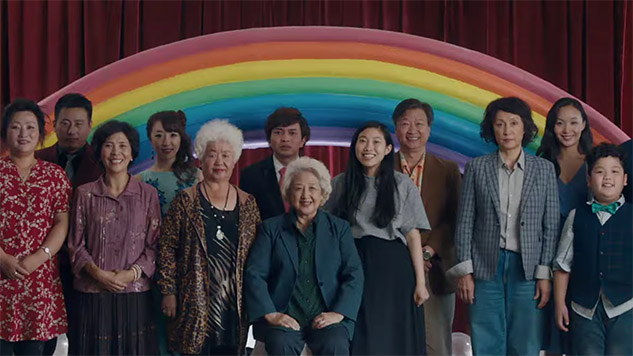 "Based on an actual lie." That opening tagline plastered on the poster and over the prologue credits sounds like it belongs in a liberty-taking biographical comedic drama (think War Dogs or American Made). Actually, it's the preface to The Farewell. Director Lulu Wang's second full-length effort is a touching watch that educates as much as it engrosses the emotions.
It's often said that in anything, the best stuff emanates from real-life raw experiences. Without even knowing that—spoiler alert—the story at hand is largely Wang's account of coping with her own sick grandmother while doing her best to assimilate as an outsider into America as well as China, the feeling of authenticity likely would still exist. Wang and cinematographer Anna Franquesa Solano give vivid flourishes of life to everyone and everything, including the interiors. It's a warm looking movie, somewhat similar in spots to something Barry Jenkins (Wang's current boyfriend…man, what a power couple) would helm. A tightly packed dinner table, sprawling banquet hall, and heavily populated cemetery all have special, customary significance in China and in the story.
Honestly, spending a good chunk of the near 100-minute runtime in The Farewell learning about different customs and methodologies is part of the fun of the movie. And surprisingly, there's a philosophical, Chinese proverb-esque lean right up there with the Bamboo Tree and the Chinese Farmer, posed in a statement one character makes about life not being about the specific actions we take, but the intent of how we carry them out. Thought-provoking stuff!
The other fun that resides within the movie is its organic humor. Wang, who wrote the screenplay as well, knows that regardless of age-old customs, there's hilarious absurdity in an entire clan refusing to tell a cherished loved one they're dying by going to elaborate lengths. But her movie never devolves into a farce devoid of heft, deftly balancing humor with heart. Perhaps the only minor nitpick with Wang's The Farewell is that the "will they, won't they, should they?" aspect of telling Nai Nai what's going on contributes to needless length. What is 100 minutes could maybe be 90 with little if anything lost.
Outside of Ma, the supporting cast names aren't household or immediately recognizable, but the all-Chinese talent Wang assembles contribute to the humor, heart, or both. Yet, most all the (rightful) post-buzz will be linked to two people. Shuzhen, with tons of elderly, suggestive, sagey energy she imbues Nai Nai with, will go down in the year as one of the better characters, a woman who defines what it means to try to live every day with vigor. However, the biggest surprise is easily Awkwafina. She's equally at home tossing quick zinger observations with Shuzhen and the rest of her family or showing Billi's difficult emotional pain solo; not just in seeing her grandmother slowly die but struggling in juggling the two parts of her cultural identity. It's a dynamic performance that will put her on the map for further things of substance.
The Farewell is a very strong tale of saying goodbye in a unique and unconventional way. At the same time, it's an official Hello! from two individuals who are likely going to be huge players in Hollywood moving forward.
A-
Photo credits go to impawards.com, rollingstone.com, yahoo.com, and indiewire.com.
For additional detailed thoughts on films both small and large, games, and the key moments that comprise each, check out ThatMomentIn.com. 
Follow me @MovieManJackson/@Markjacksonisms