I didn't cause it. I can't cure it. I can't control it. That mantra is one that father David Sheff (Steve Carell) never thought he'd have to think about. He and his son, Nic (Timothée Chalamet) had such a strong relationship. Nic is quite the writer, and seemingly, has everything in front of him for the future, including college. So, what's a tad bit of marijuana here and there to take the "edge" off of things, of which David obliges and even partakes with his son in?
Well, that marijuana leads into hardcore drugs, of which includes crystal meth. It isn't long before Nic is struggling to keep it together, and the choice is made to send him to a rehab center by David and his wife, Karen (Maura Tierney). Every time Nic looks to get better by taking a step forward, three steps back into addiction nullify any progress. Years go by, and David and Karen wonder what—if anything—can be done to save their son.
Want to feel hopelessly depressed? A viewing of Beautiful Boy should do the trick. The subject matter is appropriately sobering, an endless examination of the topsy-turvy situation families and loved ones are exposed to when people they care about are going through drug problems. With the cast involved, it's fine, if little more than an exhibit A PSA on why hard drugs should not be messed with.
The silver screen treatment of Beautiful Boy is taken from not one, but two memoirs from the real-life David and Nic Sheff. This approach is a double-edged sword to the adapted narrative, co-written by Luke Davies and director Felix van Groeningen, in his English film language debut. Combining two accounts does give the two lead characters their own stories and an opportunity for the audience to see the events through duel eyes. However, with the two accounts being combined, Beautiful Boy loses something in the way of pacing, especially in the first half of the film. Groenigen tries to build a cohesive manner in storytelling, and a person can say that perhaps going the way of fragmented, flash back/forward techniques is a stylistic choice meant to represent the crazy-yet-recurrent process of relapse. It's a hard story to adapt, as evidenced by the reports of the difficulties Groeningen and editor Nico Leunen had in settling on a final product. Even the ending comes off as kind of rushed.
That being said, Beautiful Boy is not devoid of impactful scenes. While some of the song choices try too hard to coax the desired audience reaction, or just flat out be out of place—occasionally to the point of arguably romanticizing drug use—others pair nicely with Groeningen's depiction of slow-but-steady drug dependence. There's something to be said for the romanticism part, and it is something that the real-life story Groeningen hint at. Sometimes, there's no reason for why people turn to substances other than "it makes them feel amazing." That's not necessarily revelatory or hooking despite it being completely true, which can give the movie a feeling of just why this story needed the theater treatment.
From an acting standpoint, the work done by the leads keeps Beautiful Boy on the straight and narrow. His turn as father Schef is good, but not the best career work that Carell has put forth in recent appearances. He's eliminated all traces of Michael Scott in prior dramatic efforts. Here, for whatever reason, whether slightly out of his element (Bryan Cranston really comes to mind for this father role), or being paired with old Office mate Amy Ryan, his performance in particular points is Michael Scott-ian. The standout once again in less than a calendar year is Chalamet, exhibiting all the feelings an addict has from elation to depression to selfishness to selflessness. He outshines Carell, but together, the duo form a bond that lends itself to some agonizingly difficult-to-watch moments.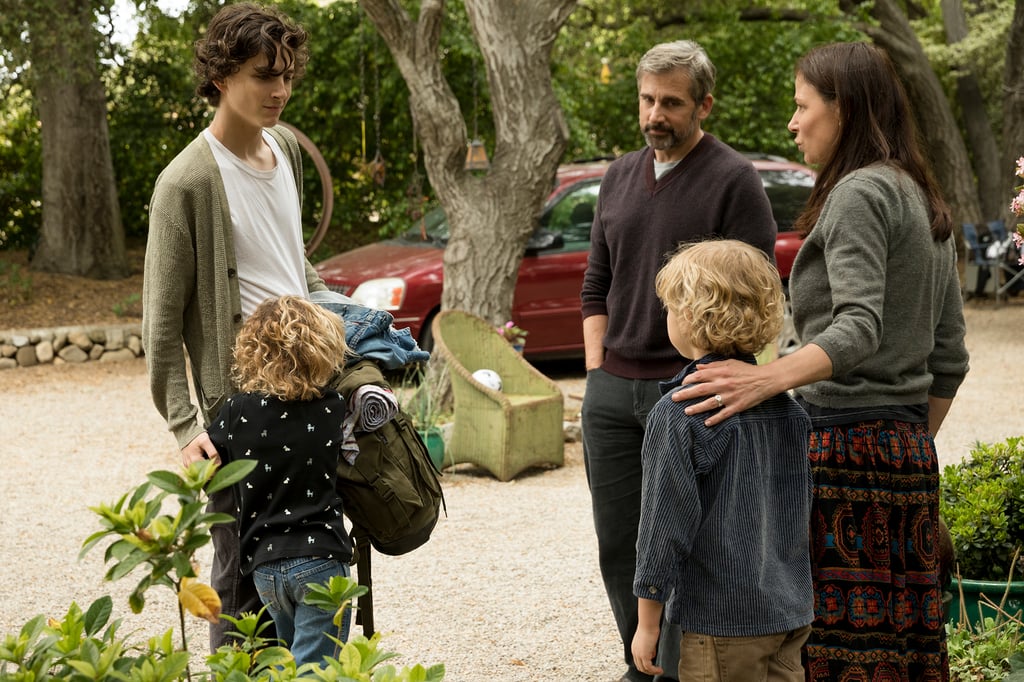 Watching Beautiful Boy, one can see the veins and traces of a truly emotionally affecting, real-life biography. But like a drug dependent in too deep, this movie is a little malnourished.
C+
Photo credits go to takingpicturesblogs.com, mtv.com, popsugar.com, and beautifulboy.movie/home/
For additional detailed thoughts on films both small and large, games, and the key moments that comprise each, check out ThatMomentIn.com. 
Follow me @MovieManJackson/@Markjacksonisms