Family. Build it right, take care of it, it'll live beyond you. Family is the biggest code that Dom Toretto (Vin Diesel) has lived by, whether in stealing DVD players or going toe-to-toe with the world's most notorious cyber-terrorist in Cipher (Charlize Theron). Through it all, his existing crew of wife Letty (Michelle Rodriguez), retired sister Mia (Jordana Brewster), her partner Brian, boisterous Roman (Tyrese Gibson), technician expert Tej (Chris "Ludacris" Bridges), and hacker Ramsey (Nathalie Emmanuel) have been by his side. Now, Dom and Letty have retired to the countryside alongside his son, Brian.
It never ends that easy. Tej and Roman appear with a message from Mr. Nobody (Kurt Russell) before he meets an untimely end. Who is in his message is equally as unnerving as the message itself, if not more so. Dom's little brother, Jakob (John Cena) has reemerged from the shadows imposed by his brother, hell-bent on reshaping the world with some sort of doomsday device known as "Aries." Dom's reluctance in hopping back into this world is understandable, but it is the only way to save his own family and the world at large.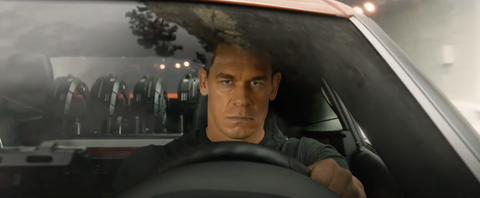 "...the world at large." Even as it is no hidden secret how the Fast & Furious franchise has evolved sharply in 20 years from small scale petty crimes to international, pseudo-science fiction espionage, it is rather mindblowing how Dom and co. have become preeminent world savers, with each mission more grandiose than what preceded it. This is no shock that F9: The Fast Saga continues the same road, ridiculous in the best and worst of ways.
It has been a minute since the last time franchise game-changer Justin Lin was credited as a director. He's back, and taking nothing away from F. Gary Gray and James Wan (the latter is responsible for one of the best setpieces of the series in the Caucasus Mountains), Lin's return gives F9 a bit of a "throwback" feel—more on that to come, later. Nothing will top the favella chase, train heist, Dom vs. Hobbs fisticuffs, or bank safe ripping through the streets of Rio in Fast Five, but F9 has one-to-two bombastic and creatively engaging (magnets, anyone?) action sequences that are that perfect length of being thrilling and not overlong, each taking place in diverse locations where physics are obviously nonexistent. Composer Brian Tyler has frequently been an important contributor, steady once again.
Outside of Lin, the man who probably deserves as much credit for driving forward the franchise into what it is today is writer Chris Morgan, who is not present this go-around and is replaced by a threesome of Lin, Alfredo Botello, and Daniel Casey. Stories were never F&F's strongest suit and since Fast & Furious 6 (which Morgan wrote), the series has used the addition of MacGuffins as connective tissue between the action. God's Eye, Nightshade, Aries, they're all the same at their cores (i.e. world disrupting technology) and anytime the movie has to get into the weeds, it is just a wonky and time-extending placeholder to build a breather leading to the next setpiece. As these films have become bigger, since the last act of Furious 7 an element of interconnectivity has gone M.I.A. The action itself, still somewhat enjoyable, becomes slightly harder to be immersed within as we follow a twosome pair of "Mi Familia" here, there, and the like.
What has become synonymous with Fast movies are their themes of family in some way, shape, and/or form. F9 works within this framework too, going all the way back to moments preceding The Fast and the Furious that show a young Dom and brother Jakob existing with their father in flashbacks and what led to their split. These will be divisive; I think they're edited well for the most part into the story and add some deeper emotional heft in large part to the people playing young Dom (Vinnie Bennett) and young Jakob (Finn Cole). The less said around the expository story explanation regarding Han's (Sung Kang) return, the better. The same goes for an actual brother not even being slightly alluded to until now, and the obvious real-world reason yet difficult in F&F universe reason on why Brian wouldn't throw himself back into this world but his baby mama would. Continuity is beginning to fray heavily, too. Give credit to the threesome on some level in tying things back to the first, but the family doesn't quite feel as fully bonded as before, and the franchise really misses Paul Walker as the grounded, glue-guy everyman in an over-the-top world on-screen and off.
Hard to say anything too different about the longstanding cast at this point. Diesel's Dom is literally The Hulk now, expressionless and more than capable of handling and demolishing upwards of 30+ dudes in close quarters with ease who all have higher levels of combat training than he does. His ride-or-die Letty remains played by a game-for-anything Rodriguez. For such hyped additions, Cena underwhelms with his natural charisma muted by ho-hum characterization, and Theron's character two films in feels either wasted or better suited for another series. The stars of the show in F9 are actually Gibson, Ludacris and a returning Kang. From being introduced in what is consistently hailed as one of the lower-ranking installments in 2F2F to now, the music stars share an easy-going banter laced with fourth-wall pokes. And despite the lack of sense it makes, F&F movies are undeniably better with the stoic Kang in tow as the philosophical Han.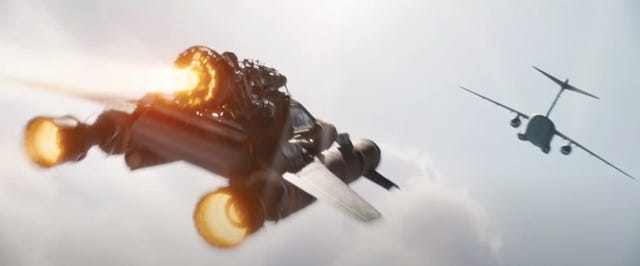 In the original The Fast and the Furious, Dom waxes poetically that he lives his life one quarter-mile at a time, with nothing else mattering except those ten seconds or less where he's free. Maybe now, twenty years later and nine films deep, those ten seconds or less would be equivalent to 30 seconds of freedom on a trip to Mars.
C+
Photo credits go to esquire.com, scmp.com, collider.com, and digitalspy.com.
Feel free to follow me @MrJackMarkSon.