For what shall it profit a company if they gain the whole world, but lose its soul? For USA Gymnastics, it was not a question worth losing sleep over. Consistently coming up short against the Eastern European gymnastic programs at the biggest stage in the Olympics, their fortunes turned when they took on many properties of the programs they were trying to best. Coaches Márta and Béla Károlyi, defectors from Romania who brought the relentless and machine-like approach to USA Gymnastics, were credited directly and indirectly in training high-performing American gymnasts, peaking with the 1996 gold medal "Magnificent Seven" team.
From here, USAG was known as the preeminent power of gymnastics, securing many eyeballs, sponsorships, and ultimately increased revenue spearheaded by Steve Penny, the Senior Vice President of the company. While accolades and money continued to be accumulated, a nasty culture was happing behind the scenes full of sexual abuse at the hands of Dr. Larry Nassar, negligence, and protection of power. Many were compliant—including law enforcement and news outlets—but one newspaper right in the Indianapolis backyard of the USAG refused to lay down in the IndyStar when elite gymnast Maggie Nichols would be the first to come forward under the name of "Athlete A."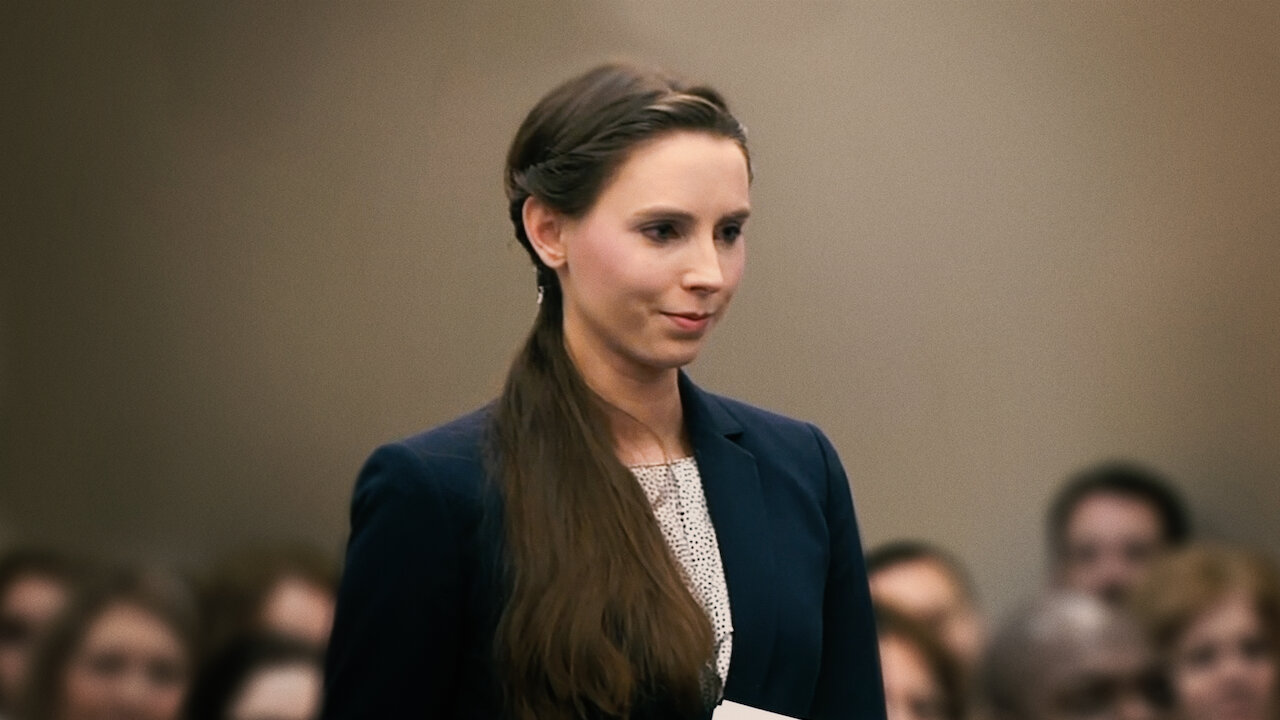 Sports and sex scandals go hand in hand often. Whether it's the Minnesota Vikings boat incident from yesteryear, Louisville basketball using prostitutes during recruitment, or the recent news surrounding LSU football and their role in minimizing victim stories, the foundational dynamics of most sports favor those who do the competing in any transgression. What makes the Athlete A subject matter so different is the inversion of protection, for it does not protect its moneymakers, only the people who profit off of them.
Granted, none of this is truly shocking; at this point we're all aware of similar stories surrounding figures like R. Kelly and Harvey Weinstein. Still, if fact-based stories and firsthand accounts are what a viewer is after, co-directors Bonni Cohen and Jon Shenk stick that landing. The duo is not interested in many bells and whistles; they are rather restrained and let the subjects and the matter be the focus itself for the most part. Archival footage, such as Nassar's instructional videos and the legendary Kerri Strug moment is utilized and reexamined to reveal different layers of the abuse at hand.
All of the atrocities Dr. Nassar committed are not shied away from, but Athlete A rightfully chooses to equally put light on the type of culture that would be conducive for him to not only pull his lewd acts off, but be trusted enough to even be in the position to do so. One of the most stomach-churning stretches of runtime occurs when one past gymnast makes the admission that Nassar was able to get so close precisely due to his standing as the only normal and compassionate person in the entire training facility who seemed like he cared. Everyone else from trainers and coaches to C-suite executives only had one thing on their minds: Cashing in. Another gymnast recalls the anguish in being told to keep off weight after losing it by way of a bout with the flu.
These instances along with numerous others paint the picture of 24/7 abuse. When it wasn't physical torture, it was emotional and psychological, equally as destructive if not more so. And for anyone—or any family—who didn't wish to comply with the patriarchal setup would be cut off. Maybe not immediately, but undeniably slowly. Nichols along with her mother and father recall the qualifying event to the Olympics in where she performed more than well enough to land a spot on Team USA, only to get embarrassed on the big stage, tying an unfortunate bow on her USA Nationals career. The family believes that her snub was the result of their daughter's report of Nassar's behavior, as they no longer received media coverage and were treated by the USAG like black sheep.
Perhaps the only area of questionable execution in the documentary is within the final act. It is here where the process of how the Indy Star released the story gets examined a bit, and it is here where Athlete A and a few of its reporters can come off as a little too self-congratulatory in their efforts, occasionally feeling more like a poor man's Spotlight. Not an abrupt transition, but stalls things ever so slightly.
That observation withstanding, Athlete A rounds back into form with a moving final five-to-ten minutes that sees Nassar's victims stand up not only to the man himself, but the system they lost their innocence to. Like a lot of stuff in 2020, the movie isn't pleasant to sit through, but there is a reason this is a story in need of attention and analysis. The setting may be different, but the system is all the same.
A-
Photo credits go to impawards.com, thesun.co.uk, digitalspy.com, and dispatch.com.
For additional detailed thoughts on films both small and large, games, and the key moments that comprise each, check out ThatMomentIn.com. 
Feel free to follow me @MrJackMarkSon.