As above, so below. Divorce is never easy for the participants involved and those around them. Young siblings Aiden (Jaeden Martell) and Mia (Lia McHugh) are dealing with the separation of their mom, Laura (Alicia Silverstone) from their father, Richard (Richard Armitage). What is worse is that Richard has moved on quickly with new beau Grace (Riley Keough) and has already announced his plans to marry her.
Whether Aiden and Mia like her or not—and they most certainly do not—their family will change. What is a perfect time for families new and old to come together? Christmas, which sees the four stationed in a lodge located in the countryside. In the peak of winter and inclement weather, there's nowhere to go. Anything in the dark comes to the light, or vice versa, including Grace's past frightening history as a youngster in a sadistic cult. It is possible Richard picked the wrong one again.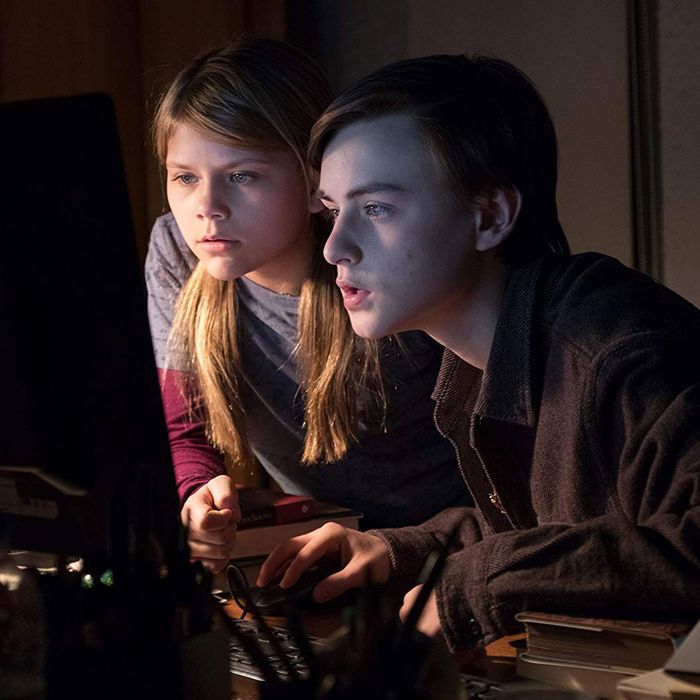 Even with more than a few days to stew on it, I'm not sure if my mind has reached a firm internal consensus as it pertains to The Lodge, a (technically) 2019 release that had a brief February run in cinemas and can now be found on Hulu. Cliché coach/reviewer speak be damned, there's a lot to like and a lot to be frustrated with, and the mileage is likely to vary with each viewer.
The Lodge sees directors Severin Fiala and Veronika Franz in their sophomore effort, again returning to the genre of horror after the psychological pulpiness of Goodnight Mommy. The word that comes to mind immediately when watching is "meticulous." With a hearty assist from cinematographer Thimios Bakatakis, the air of dread and depravity is present throughout, kicked off by a shocking first five-to-ten minutes of run time. Dark hues of gray, blue, and green coat the screen. Comparisons have been and will be made (somewhat unfairly) to Hereditary; the two movies share similar usage of a dollhouse as catharsis as well as a common tie of past sins and grief. More fitting influences come in the form of The Thing, Misery, and even The Hateful Eight, all features that heavily rely on being environmentally trapped with the threat of grisly violence always high. A slim but impactful score from Danny Bensi and Saunder Jurriaans definitely adds to the creepy vibe.
The direction is airtight, but the point of contention will be the script of The Lodge, written by its directors along with Sergio Casci. This is the frustrating part, because on one hand, The Lodge from the moment it begins is unpredictable, and it is highly unlikely anyone will be able to accurately predict where the story actually ends up. However—to hopefully spoil nothing—The Lodge also takes big leaps in character decisions/indecisions, general logistics surrounding said decisions, and people punching above their weight with no implied capability of doing so that by the shifting third act, much of the dominoes falling come off as inorganic. This twist may kill the entire film for some watchers.
Whatever mileage is gotten out of The Lodge, it is nigh impossible to not recognize the performances of the central three stars. Keough covers an entire spectrum of emotion, and continuously makes the viewer question her sanity and whether she's the victim, the accuser, or something in between. For Martell (previously known as Lieberher), it is as if the teen has been around for a while now, often serving as the fulcrum/critical piece of whatever he appears in, which shouldn't go unnoticed. But the star of this show might be the youngest member of the cast in McHugh, extremely impressive as her character attempts to process weighty existential questions and morality unfitting for someone of her age.
One thing that can be said about NEON? Their movies often are not what they appear to be on the surface. That sentiment applies to The Lodge. Just wish that the time spent in it left a stronger lasting impression.
C+
Photo credits go to impawards.com, IMDB.com, popsugar.com, and screenrant.com.
For additional detailed thoughts on films both small and large, games, and the key moments that comprise each, check out ThatMomentIn.com. 
Feel free to follow me @MovieManJackson/@Markjacksonisms