We are family! Smugglin' drugs in an R-V! How did that happen? Small-time pot dealer David (Jason Sudeikis) ends up getting robbed of his product, cash too. This type of scenario occurring often means death from the big boss,  which in David's case is Brad Gurlinger (Ed Helms). Brad has a plan in mind though for his longtime friend. All he must do is go to Mexico, get a huge haul of marijuana, and bring it back to the states.
Highly dangerous, yes. Impossible? Maybe not. With that said, it will involve David changing his approach, as he will never be able to pull this off alone. But posing as a family man with a fill-in family? Worth a shot. David employs his neighbors in stripper Rose (Jennifer Aniston) and dorky high schooler Kenny (Will Poulter) paired with homeless Casey (Emma Roberts) to serve as the average middle-class unit. Pull it off, and a pretty collective penny of $100K is promised for everyone involved. And who knows, these collective misfits might find some friends along the way.
August 2013. Man, oh man, seven years ago feels like thirty-five now. On the weekend We're the Millers was released, Neill Blomkamp was still considered one of the industry's up-and-coming directors before Elysium dropped on the same day, the Cars franchise was able to spin off into Planes, and it would still be at least a month before Denis Villeneuve broke into the mainstream with Prisoners. Time elapsed be damned, We're the Millers is…fine. Not Johnson Family Vacation bad, and a far cry from Clark Griswold and his legendary Family Truckster antics in National Lampoon's Vacation.
Before he became one of Dwayne Johnson's best buds, Rawson Marshall Thurber was a director only known for being the man behind the camera and idea of Dodgeball: A True Underdog Story. In his filmography, the 80's definitely seem to be a place of adoration for the man, and We're the Millers takes some inspiration from the aforementioned Harold Ramis feature. There's little more than "point and shoot" as many comedies tend to be, though a couple of scenes benefit from hands-on editing and sound song choices…such as the infamous Aniston strip and fourth ball break.
Unlike Dodgeball, Thurber has nothing to do with the script for We're the Millers, instead handled by a quadfecta of writers in Sean Anders (Instant Family), John Morris (Dumb and Dumber To), Steve Faber and Bob Fisher (Wedding Crashers). Often, four writers would portend to having too many to make something coherent. Coherence isn't the issue with this one, the obvious is. There's predictable, and then there's We're the Millers predictable. For an R-rated semi-raunch com, writing has been worse, but there's never one strand of subversion in the subject at hand. Some jokes land, some don't. Par for the average 21st century laugh movie. The problem is, everything plays out exactly how it's set up to be, whether that be the jokes, or the story. Guy gets girl, but most importantly, everyone learns the meaning of family, despite never really feeling like one. Raise your Coronas in unison.
With all of that said, We're the Millers has kind of endured, having multiple lives as a meme movie. No Ragrets (way overplayed but highly doubtful you won't go a month without hearing or seeing tweeted). You guys are getting paid?! Or, the best 30 seconds of the entire flick that detail the depressing monotony of middle age. Sudeikis works better as a #2 as opposed to a leading man (he's hit and miss when the script needs him to show even 50% heart), but he's still one of the funnier people in Hollywood with his timing and delivery.
Roberts and Aniston get a few times to shine, though it's Poulter who's consistently the funniest throughout. He plays dumbfounded spectacularly, and as far and away the best dramatic actor of the bunch, carries the pathos and singlehandedly almost gets an audience to get partly invested in the Miller family dynamics. The less said about Nick Offerman and Kathryn Hahn's appearances in this, the better. Both are talented, though have agonizingly quirky characters here.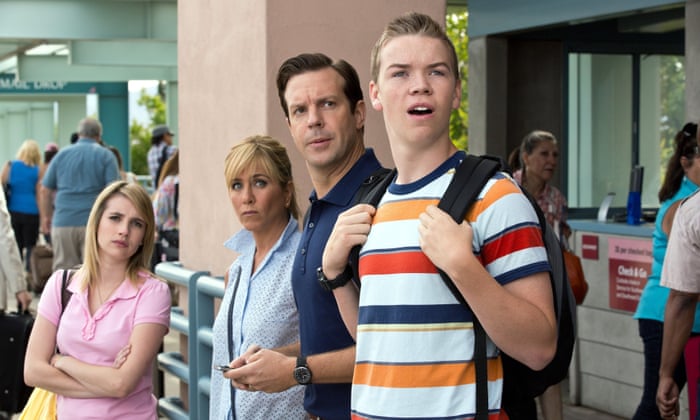 Would We're the Millers see the box office success it saw in 2013 if it were released in, say, 2018 or 2019? The guess is no, as we society-wise have pivoted from taking a chance on something in a theater to "let's wait a few months for the (insert streaming service here)." And this was pre-COVID-19. Comedies in particular have seen reduced box office cumes over the years, to the point that many an article has been written on the matter. The point is, yours truly probably would have been disappointed if I had paid a full ticket price for We're the Millers. Seven years later, in the comfort of my home? It's OK. Perspective is everything. You know what I'm sayin?
C
Photo credits go to impawards.com, theguardian.com, ew.com, and IMDB.com.
Feel free to follow me @MovieManJackson/@Markjacksonisms