That's marriage. The union between actress Nicole (Scarlett Johansson) and theatre director Charlie (Adam Driver) has become tenuous and clearly headed for divorce. Still, they're nowhere near Nick and Amy Dunne levels, and plan to make every effort to split as amicably and as clean as humanely possible (they don't want to bring lawyers into this!) so that their son, Henry (Azhy Robertson) can continue to have equal parental presence in his life.
The troubles begin when Nicole leaves with Henry to Los Angeles to do what is intended to be a life-changing television pilot, leaving Charlie in New York to helm his Broadway play. There, she meets attorney Nora Fanshaw (Laura Dern), who's quite adept in handling divorces. Soon, Charlie is hit with divorce papers, and must secure the work of a lawyer himself, settling on Bert Spitz (Alan Alda). Very quickly, both cultivate their own versions of their Marriage Story, influenced by lawyers. Yes, things are about to get nasty.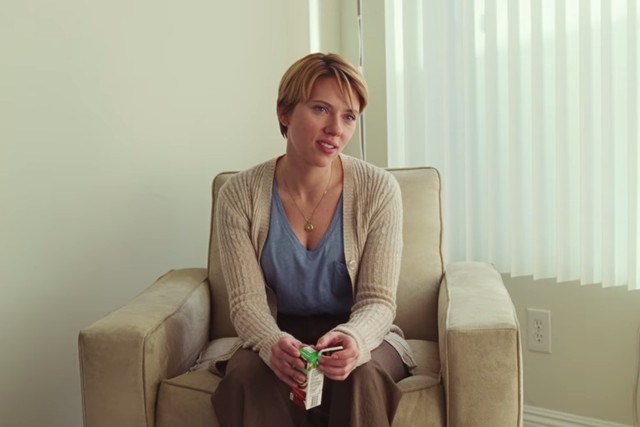 About half of marriages in the United States end in divorce, a staggering statistic treated as commonplace. At this point, it's a percentage driven so heavily into our craniums that it's a legitimate shock when personal friends or celebrity power couples don't split up. Whether firsthand or secondhand, it's an experience that many have been exposed to. Director Noah Baumbach's very personal Marriage Story of two people splitting apart not solely by their own doing is full of intricate intensity, and rife with authenticity that pours out from the opening scene and only continues thereafter.
Duality is the theme that Baumbach leans on, beginning with a superb introduction to Charlie and Nicole that hears them delving deep into heartfelt monologue montages explaining what they love and what they could do without in the other. In five to ten minutes of screen-time, he makes the audience feel as if they've known these characters forever; storytelling at its most efficient and finest. Charlie and Nicole see two sides (duh!) within each other, they're two parents who want the same thing for Henry, and two people who come from/desire similar yet differing cities in LA and NYC. His direction is extremely neutral, never favoring one person over the other, even in the climactic moment you'd expect given the subject matter.
In addition to directing, Baumbach handles the script solo. Every conversation, be it the ones the divorcees have between each other, their family members, their son, or their lawyers, has purpose. Baumbach's Marriage Story is certainly a draining view in a way, yet it isn't purely doom and gloom. In all the minutiae of a legal breakup, Baumbach finds the humor and awkwardness in co-parenting for Halloween, dating-while-still-technically married, one-upmanship's, and the like. The buzzword for this movie is authenticity, and it's already been used here, but it's completely accurate. Everything occurs in the natural flow of the story. The score, composed by Randy Newman, adds to the emotion in a non-manipulative way.
Marriage Story is almost certainly going to earn its director another Best Original Screenplay nomination and may score him his first Best Director nom as well. That said, Marriage Story is powered by Driver, Johansson and the work of a surrounding cast. For Driver, he's been on a tear starting around his turn as Kylo Ren in 2015, but his meticulously sharp performance here puts an exclamation point on what has been an impressively diverse decade of roles. Here, he as well as Johansson (using her own divorce as a reference point) seem to pull from their Broadway experience to accentuate their characters when necessary. The beauty of it all is that they are real people, possessing warts and all who both can be in the right and wrong. Not to be overlooked are Dern (hey, another past divorcée!) and Alda, with the former chewing scenery as a Type-A, been-there-done-that divorce lawyer.
The buzz is legit surrounding Marriage Story. It's a moving love story told through the lens of a divorce; an epic covered in basic wrapping paper. I've never divorced, much less married. However, I feel like I've been in the heat of one after viewing.
A-
Photo credits go to impawards.com, spin.com, cosmopolitan.com, and ew.com.
For additional detailed thoughts on films both small and large, games, and the key moments that comprise each, check out ThatMomentIn.com.