Come as you are. It's the Mid90s, and 13-year old Stevie (Sunny Suljic) is just trying to find his way in the summertime. Life's a bitch in urban California, where he, his newly adult brother, Ian (Lucas Hedges), and mother, Dabney (Katherine Waterson) reside. Navigating adolescence is never easy, but with the constant physical and emotional bullying from Ian and with no parental guidance, Stevie is all alone.
By a combination of pure luck and curiosity, he finds camaraderie in the form of some local older neighborhood kids and immediately, he's hypnotized. Ray (Na-Kel Smith), "Fuckshit" (Olan Prenatt), "Fourth Grade" (Ryder McLaughlin), and Ruben (Gio Galicia) are a crew that all come from various walks of life. They all share one commonality: A love for skateboarding, for it lessens—if only temporarily, the ills of life. Together, they laugh, contemplate, and stumble through the awkward and troubling crossroads of teenage years into adulthood.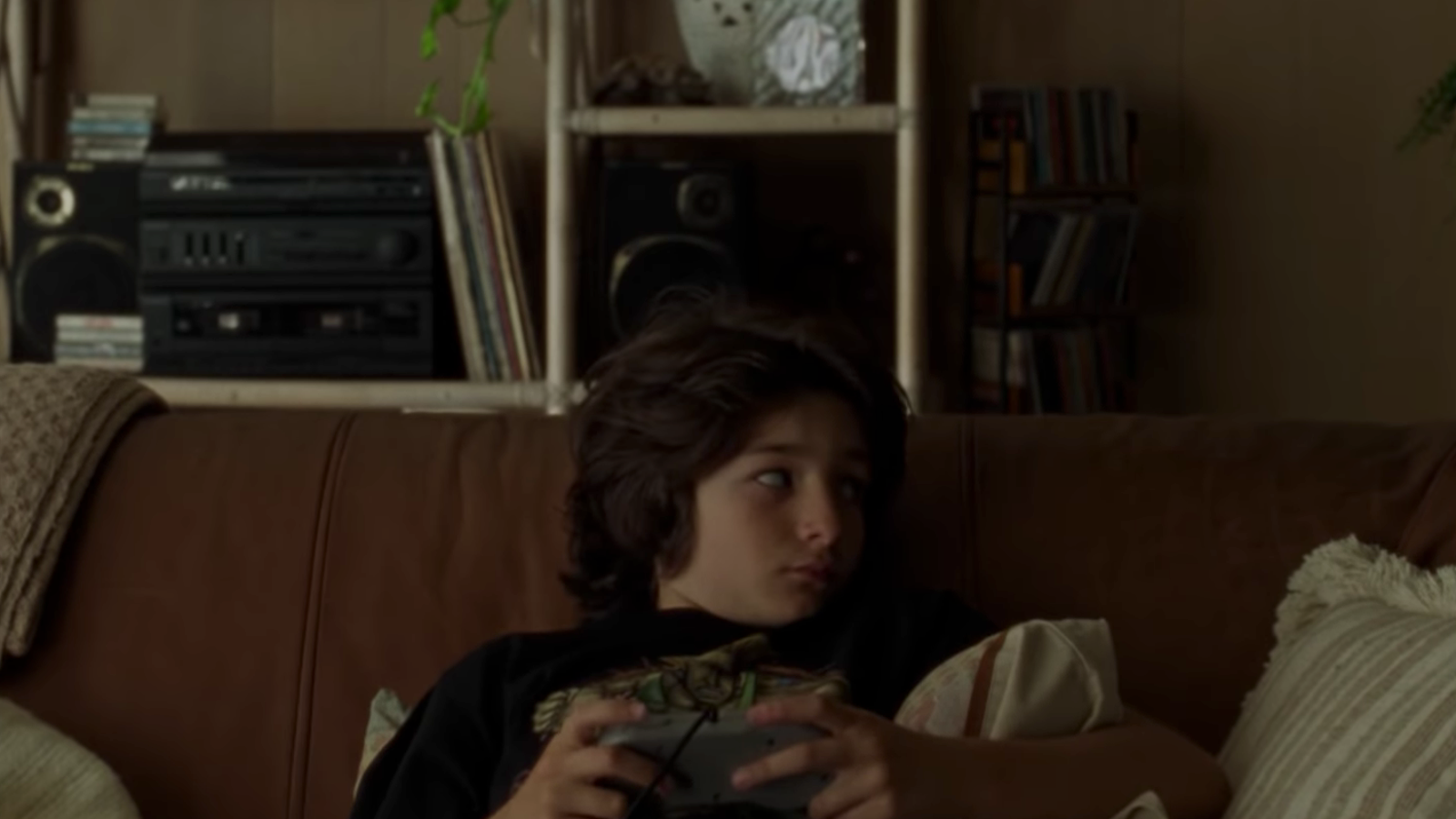 And so he kick, push, kick, push, kick, push, kick, push, coast. That track by Lupe Fiasco came in the 21st century and not in the 1990's, but the story of a kid and how his love for skateboarding helped him to escape problems feels like a condensed audio version of Jonah Hill's first foray into directing in the form of Mid90s. It's a sturdy debut from the young man that isn't without a few bruises, but what is here is a ton of passionate vision.
For a film like this to work, it has to be authentic, which is the best way to describe Mid90s. That won't be the only time that word is used. It begins with Hills' insistence on using a 4:3 aspect ratio, immediately transporting viewers to a simpler time when 4K and razor-sharp clarity weren't a part of everyday expectations. Simpler times don't necessarily mean better, however. While Hill certainly has a love for this period, he doesn't regulate the nostalgia through rose-colored spectacles. There's a real mean-spirited edge that the director picks apart and holds up to be examined.
Honestly, it's as much of a criticism of the decade as it is a tribute. Some of the more powerful scenes are immediate snapshots to elementary and middle school, when it was cool to call people gay, and totally fashionable to not give a damn about anything, lest be mocked for it. Again, authenticity. Even for a genre not necessarily known for intricacies stories, Mid90s is on the basic end. But, Hill's telling a story that is almost "Seinfeld"-esque. When a story is about nothing, isn't it inherently still about something?
In the case of Mid90s, absolutely. The film itself may not be character-driven, though it is driven by character interactions and dynamics with one another, and that begins with Suljic. He's the representation of probably all of us at some point in time, trying ever so desperately to fit in and get noticed, and it being like winning the lottery when we finally do. He, like, the rest of the cast, happens to be a real-life talented skateboarder, and Hill made it a priority to cast people who are skaters first, thespians second. This approach occasionally mars some dialogue and efforts pertaining to drama. Yet, the benefit of this is, once again, an authenticity that Mid90s needs and thrives on.
The majority of this cast is not likely to become household names in cinema, but Suljic and Smith can be. Smith, in particular, delivers one of the most moving monologues of the year as one of the more multifaceted characters of the year. It's an extremely grounded performance, and it wouldn't be crazy to say that Mid90s is Smith's movie as much as it is Suljic's. Seeing the characters' relationships strengthen and disintegrate over the biggest and smallest of issues is compelling, and the last 20-30 minutes have it all from humor to legitimate uneasiness, supported by a brief but beautiful score from Trent Reznor and Atticus Ross.
If there were one mildly disappointing aspect of Mid90s, it would be that 84 minutes feels like a crime just as matters are really picking up. The movie just…kind of ends. I suppose there's a statement being made that life, and especially childhood in general, goes on, and is more about the lessons hopefully learned and journeys traveled, but there is a feeling of missed opportunity to bring finality to a few threads.
In Mid90s, all the small things add up to one big emotionally heartfelt success. Throw on a Starter jacket and pack a Tamagotchi, this trip down memory lane is one worth taking.
B+
Photo credits go to consequenceofsound.net, traileraddict.com, and lifewithoutcandy.com.
Follow me @MovieManJackson/@Markjacksonisms/@actionmarkjackson (Instagram)