Guilt is a Beast to deal with. The guilt of not being there when his wife succumbed to cancer is what Dr. Nate Samuels (Idris Elba) is sifting through. At the time, Nate and his wife were estranged, and the bad timing drove a wedge between he and his two daughters Mere (Iyana Halley) and Norah (Leah Jeffries), particularly the former. In an effort to show his commitment to them, Nate takes his daughters to his spouse's homeland of Africa. He needs this, they all need this.
Their tour guide and resident host is Martin (Sharlto Copley), an old friend of Nate's. On their first full day in safari mode, the Samuels' see many beautiful sights, as well as a horrifying discovery. An entire village of people has been gruesomely massacred by a king of the jungle. A vicious lion is surveying the Savanna, and quickly emerges after another attack to make his presence known to Nate, his daughters, and Martin. What was designed to be a trip full of serenity has quickly shifted towards one of survival.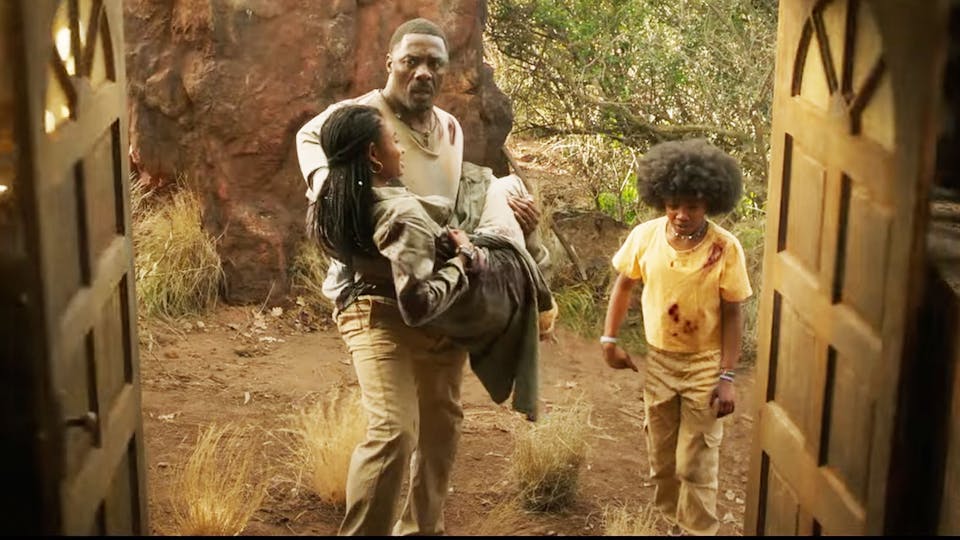 In successive weeks at the movie theater, audiences have essentially received the same movie in earnest. Last week was Fall, a survival movie seeing two individuals suspended in their air, and this past week saw Beast, highlighting a family of three in their attempt to survive in the wild against one of nature's most fearsome animals. Same movie with different threats but executed much differently. Beast is the better of the two, a concise watch with decent characters and a few thrills and no interest in trying to convince viewers of being smarter or bolder then they are.
Icelandic director Baltasar Kormákur (Everest, 2 Guns) is tasked with handling the action, and perhaps the most surprising thing about the film is how tight its on-screen events are. Let me explain. Beast, with assistance from cinematographer Philippe Rousselot, flows and moves with the grace of its apex predator. Starting from the beginning, Kormákur uses minimal (or at least, non-noticeable) editing to build a sense of immersion and tension, all without a ton of blood (this is quite tame). Whether it's walking through a vacation residence, wading into high water, or under the foundations of a Jeep when our antagonist is relentlessly aggressive, the tracking shots are a huge addition to the feature. As far as the lion(s) itself, in some scenes the CGI appears seamless, and in others, a tinge rough. It is what it is; this isn't The Lion King circa 2019 budget.
Is Beast perfect? Not at all, even the best of the best genre flicks have more suspension of belief than desired, and Beast isn't quite like The Meg for example, which was more blockbuster-oriented and as the runtime wore on, consciously winked at its audience (or at least Jason Statham and Rainn Wilson did). Beast plays things pretty straight which brings spotlight to some of its confounding decisions its characters (read: the daughters) make and the dialogue they choose to roll with in a few of these instances. Dream sequences that seem to spur on Nate don't quite fit in, and the relationship between Nate and Marcus feels undercooked with more left on the cutting room floor (a look Elba gives to Copley early on gets my mind racing for hidden past secrets). All said, rather there be less than more for a movie like this.
Recently, a lot of news has come about Elba's daughter not being casted and it has caused a mild commotion. It would have been cool to see him alongside his real-life kin, but perhaps not ideal since the film calls for two daughters; she still would have had to play alongside someone else. Actresses Holly and Jeffries are collectively kind of green and it shows. Not enough to markedly derail what the movie is after, but enough of a weak point to notice. Beast is designed to let Elba lead the way; and the actor does well in physical moments while clearly portraying a man trying to make amends with not only his kids but himself too. I could always use more of Copley, including here. The oft rock-solid (and acquired taste) supporting actor comes through again in the time he's afforded.
It doesn't reinvigorate the jungle of movies it appears alongside. But for anyone seeking a survival creature feature undemanding of too much time invested, Beast is commendably utilitarian.
B-
Photo credits go to empireonline.com, uproxx.com, and moorefamilytheaters.com.
For additional detailed thoughts on films both small and large, games, and the key moments that comprise each, check out ThatMomentIn.com.
Feel free to follow me @MrJackMarkSon