"I've never told anyone that in my life; you should be honored," remarks Margaret (Rebecca Hall) to a coworker. What Margaret just revealed is a piece of her life story which would make anyone queasy. Past that point and up to this immediate one, Margaret has lived a solid, and most importantly, an in-control life with teenage-but-almost-adult age Abbie (Grace Kaufman).
Her entire equilibrium is thrown off when she sees David (Tim Roth) out of the corner of her eye at a work function. She can so much as barely stand or breathe with him lingering about in public. Who might David be? A person Margaret has a deep, romantic history with, as well as a person she ran away from after intense trauma. Well, he's back to communicate some very important news to her, and his return resurrects the fears and pains Margaret thought she had long moved past.
Resurrection goes places. Dark and disturbing places, some of which a viewer cannot see and others we can. It's a heavy watch, and a movie made up of very strong parts that at times feel disparate but still do enough to not have the movie completely cave in on itself.
The film is written and directed by Andrew Semans, a relative unknown in the space. On the directing end, while he's not the most important reason as to why this film works largely, the choices he chooses not to make are. It is easy to see a world in which Resurrection—as more gets revealed around Margaret's story—is told in flashback form and much of the pace succumbs to a choppy flow. However, Semans chooses to place the responsibility on his talented cast (more on them shortly) to fill in the grisly deets. Sure, it goes against the age-old adage of "show, not tell," but telling here instead of showing allows Resurrection to stay away from exploitation and allows the viewing audience to draw up their own mental images to the horrors Margaret lived through.
On the writing end, Resurrection is a great script…for about two-thirds of its runtime. Semans showcases a genuinely unsettling descent into mental madness, highlighting a central idea that trauma can be dealt with, but maybe never fully healed, and it doesn't take much for the wound to re-emerge rawer than ever. There is also an interesting subtext around coping with endings/new beginnings and passing along our experiences positive or negative to our offspring, in a sense unconsciously "resurrecting" what we hoped no longer existed. Yet for that final third and particularly last 15 minutes of runtime, Resurrection makes a hard left into the improbable. Doing the absolute best to spoil little, but this hard left wouldn't be such a hard(ish) pill to swallow if there were a few substantial clues suggesting the possibility of the story existing outside of normal reality parameters.
Even as the film oscillates between two environments, Hall is the knockout constant that keeps Resurrection centered. It shouldn't be a shock that she's this impressive; really since 2015's The Gift in some way, shape, or form Hall has risen up in the ranks when talking about actors/actresses that either can serve as the emotional core of the feature between two morally questionable and opposing entities, or flat out carry a feature on their backs like The Night House and here. She delivers one of the most emotionally stirring scenes of the entire calendar year in a seven minute unbroken monologue. Hall likely will not receive any serious awards consideration; like Hereditary and Toni Collette in 2018, Resurrection is too "out there" for big-time love, but there's no way this holds up without her talents. And that's saying nothing to minimize Roth who has a few moments to shine when his character's path crosses with Hall's. Long comfortable playing bad guys, this character of David is something he can play in his sleep, though he's rarely felt this…physically gross in other parts he's played and his entire demeanor plays with this fact.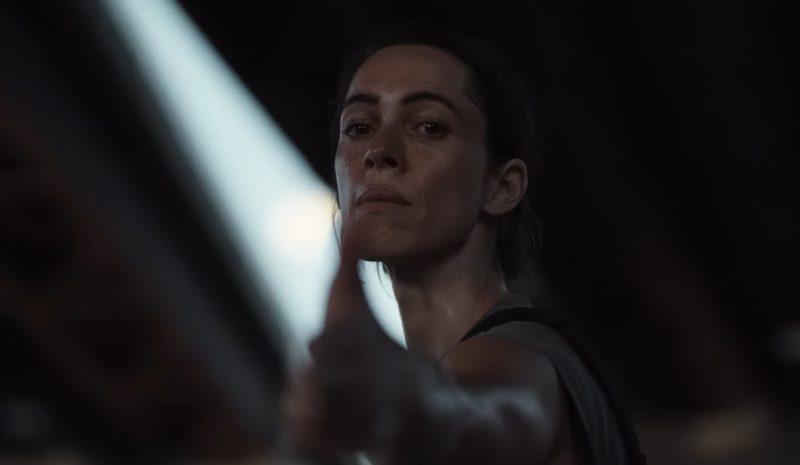 Due to a messy ending literally and figuratively, Resurrection as a whole movie doesn't rise to the top of 2022's best. All that said, the pitch-perfect portrayal of someone spiraling towards trauma-infused insanity courtesy of Hall is something that is absolutely one of 2022's most noteworthy performances.
B
Photo credits go to impawards.com, comingsoon.net, IMDB.com, and vitalthrills.com.
For additional detailed thoughts on films both small and large, games, and the key moments that comprise each, check out ThatMomentIn.com.
Feel free to follow me @MrJackMarkSon.