Imitation is the sincerest form of flattery, but rarely can the imitatee charge the imitator for it. In Columbus, Ohio resides Lennon Gates (Sylvie Mix), an observant and shy individual very much interested in the city's growing alternative music scene and with no real way to penetrate it. She plays a little guitar on the side and writes lyrics, but is far from a performer.
The benefit of growing up in the 21st century? The opportunity to build a bridge towards what you want to get into, and for Lennon, that means starting a podcast interviewing and highlighting the musical acts making up her city. Through her own unique way, she manages to catch on and is introduced to Bobbi Kitten (playing herself), an artist Lennon is fascinated with. Outside of the interview, the two begin to form an interesting relationship that transforms Lennon into what she thinks is something of her own making.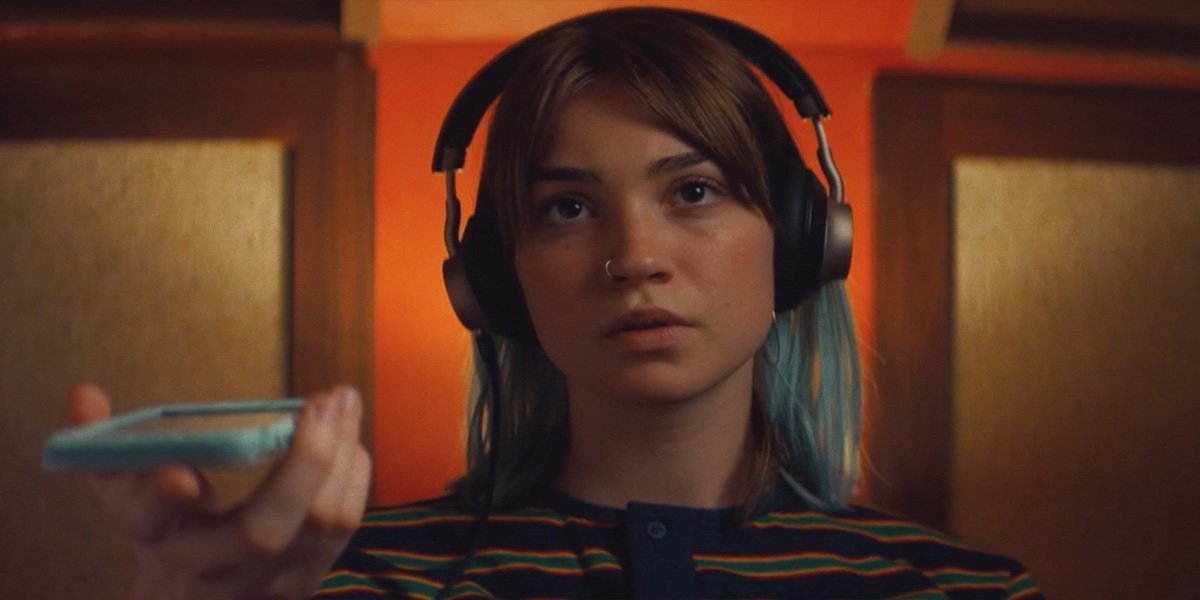 "Cowtown," a.k.a. Columbus, Ohio. Might be surprising to a sizable amount, but the city (full bias, I live in it) is currently the 14th largest in the United States, and home to notable companies, entities, and now, budding independent musicians. Poser is both a love letter to the city's unknown music scene and a serviceable character drama study.
Poser is the official directing debut of partners Noah Dixon (also the sole writer of the movie) and Ori Segev. One of the biggest compliments that could be given to any first full-length feature indie is that it looks like something that belongs in the theater. Shots and edits make sense, and the eclectic, moody cinematography fits in lockstep with the music and scene "depicted" featured in the movie. Depicted is quoted because this isn't so much an approximation as it is, simply and legitimately, the real thing with actual bands and acts, led by Kitten's bold Damn The Witch Siren cuts. From the get-go, the directorial duo showcase an ability to craft a vibe and use it as the launching point for a movie. Kind of hard to do. I really want to see what these two do within the lines of a committed horror/thriller work.
Where does the inspiration for fully formed art—be it a painting, film, or book, come from? Broadly speaking, it can come from anywhere, but often an idea, a setting, or a combination of the two seems to be the match that lights the fuse. In Poser, Dixon and his partner Segev have stated in their press tour circuit that they started with the underground scene being the focal point and reverse engineering the story from it. Their approach works alright enough for most of the film, but Poser does begin to feel light in natural character escalation and is somewhat scattershot tonally in its final act. Still, from a 30,000 foot view this is a story young adults should be able to relate to in trying to gain acceptance into something, possibly at the expense of losing oneself in the process even if it gives vibes of a first draft at points.
Behind the lens, Poser is a two-person effort and such is the same on-screen, as Mix and Kitten drive the entirety of the feature one way or another. Both actresses make their own full movie debuts here. While the writing doesn't support robust characterization out of these two, the ladies are captivating in their own regard to create audience interest and build a believable union.
Not every debut is destined to set the world and film Twitter ablaze, but the next best thing for any debut filmmaker(s) and cast members is to create and be in something that makes viewers interested in what they do next and how their careers go from there. On that end, Poser displays a lot of future potential.
B–
Photo credits go to impawards.com, deadline.com, and indiewire.com.
For additional detailed thoughts on films both small and large, games, and the key moments that comprise each, check out ThatMomentIn.com.
Feel free to follow me @MrJackMarkSon