"Who you gon' be tonight, Zola?" That is a question Aziah Wells a.k.a. Zola (Taylour Paige) asks herself as she prepares to take the stage in a Tampa, Florida gentlemen's club. How did she get here? She's not foreign to the game; Zola strips part-time on the side to make extra money in Detroit. At her day job serving at Hooters, she meets Stefani (Riley Keough). Stefani also strips and is there for the night in Detroit. The two hit it off, dance together at the club, and exchange contact information.
Stefani messages Zola a proposition: Join her, her boyfriend, Derrek (Nicholas Braun), and Stefani's "roommate" in "X" (Colman Domingo) on a road trip to Tampa, where she and Zola over the course of two days can make insane amounts of money at the popular local gentlemen's club. If only it were that easy, as Zola quickly realizes the situation is far more unsafe and convoluted as it spirals into the seedy world of sex trafficking.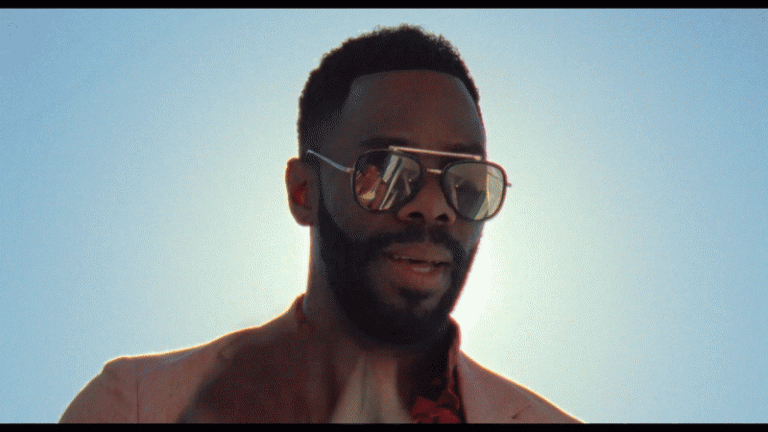 Is a Twitter thread being the basis for a wide(ish) release Hollywood feature the new low? No, not really! But yes, Zola's genesis stems from #TheStory, once trending in 2015 on the popular social platform and shared and commented on by the likes of Ava DuVernay, Keke Palmer, and others. It is kind of surprising this got made, but then again, A24 has become quite the independent studio home/distributor for oddball stories and movies. As with a good chunk of their offerings, a viewer's mileage may vary.
Zola is director and co-writer Janicza Bravo's second full-length film. From the get-go, she does embrace the titular character's unfathomable story, tinting the film and certain scenes in a dreamlike haze with help from cinematographer Ari Wegner, and using Paige's narration here and there (direct verbatim lines from the thread) to forward the story. In other words—and it is hard to quantify specifically since no feature before has ever been fully based off of a Twitter story—this visually speaking feels as close to how an R-rated/X rated sex trafficking road tripping stripper story would be, a troika combination of Good Time, Uncut Gems, and Spring Breakers. The semi-constant Twitter notifications sounds are unnecessary and grating, though.
Zola clocks in at a relatively quick 86 minutes of runtime. On one hand, this shows self-awareness from Bravo and co-writer Jeremy O. Harris, the Twitter thread—mostly factual save for a few spots, is just enough to not feel stretched, and the writing duo don't even try. On the other hand, the writers do choose to omit portions of Zola's thread that could have been strong comedic additions, dramatic additions, thrilling additions, or some combination of these. There also appears to be a missed opportunity to tell the story we see from another viewpoint in Stefani's, arguably the more intriguing character compared to Zola. Bravo and Harris toy with this possibility, but only for a quick minute or two. An alternate perspective or even perspectives could have translated into a bigger amount of depth and overall well-roundedness.
As seen before, an invested cast can usually raise a movie up a level or two it may otherwise have no business being at, and Zola is definitely a beneficiary of those thespians who signed on to appear in it. Despite her character being somewhat passive and too "fly-on-the-wall-esque," this is a great turn for Paige, showing no fear in what the role demands. The same can be said for Keough, who has quickly displayed over the last few years a strong ability to slide into different roles that all demand varying notes. Domingo continues his mid-career surge into supporting stardom, providing a rock-steady magnetism, and even Jason Mitchell—one a rising industry star done in unfortunately by deplorable on-set and off-set behavior, shines in the few scenes he is in.
Y'all wanna hear a verdict? Zola's journey to the big screen is certainly original. For as skim as it is, even with some tonal missteps and missing areas of focus aside, the performances of a talented and most importantly in this case, committed cast elevate an erratic script. RT, IYKNW.
B-
Photo credits go to impawards.com, freep.com, wideopencountry.com, and latina.com.
For additional detailed thoughts on films both small and large, games, and the key moments that comprise each, check out ThatMomentIn.com.
Feel free to follow me @MrJackMarkSon.