"It really doesn't matter." That is a refrain that seems to be the current theme of Joseph's (Ben Whishaw) life. He works a mundane gig as a security man for the local London airport, often being exposed to things and people he simply does not care about. And that includes a suffocatingly oppressive set of parents he occasionally visits. The cycle repeats itself, with Joseph stuck in an endless loop of lifelessness.
Joseph is searching for what being alive feels like. His journey kicks off after a grisly injury seemingly gives him a Surge of rebellious energy. For 24 hours—and maybe longer—nothing is off the table and all social mores are to be broken.
One main influence on Surge is clear, that being the Safdie Brothers 2017 feature Good Time, it too happening entirely over the course of a small time period. But overall, Surge is totally its own movie, with not a lot immediately out there like it. An arthouse indie through and through, it is worth a view on novelty and its lead-driven work alone.
Surge is the feature-length debut from writer/director Aneil Karia. It is an expansion from his 2013 short of Beat. So, there's definitely familiarity in ways many first-timers don't often have in their debuts. Using a slightly muted color palette of blue and gray, he drives home the monotony early on that makes up his lead character's world. His movie is also appropriately titled, particularly from about 20 minutes onward. There is a pretty constant propulsive style that Karia employs, meant to put us in the now bursting and scrambled mind of Joseph as he experiences what is presumed the first time he's ever been alive. The camera bobs and weaves a ton, and wide shots are scarce. It's an effective and fairly fitting technique here, albeit at times not as immersive as one might believe. I'd recommend the easily nauseated to sit this one out.
Surge is a tidy one hour and forty-five minutes of runtime, a portrayal of a mental breakdown that isn't completely painted as "negative"…if at all. If anything, there is a noted zeal that Karia along with co-writers Rita Kalnejais and Rupert Jones seem to have in their story, an idea that Joseph was living in the Matrix and his accident was his red pill awakening moment into a primal, but most importantly, a more authentic interaction with his day-to-day environment. This is forever an interesting philosophical idea. But where Surge loses momentum is in the finer details of its narrative, mainly with who is Joseph. In a nutshell, he is probably meant to be an extreme version of all of us when we become disillusioned and done with the endless rules and regulations that make up our lives. Still, when we spend so much time with him and him alone and receive few details on Joseph's life or past that brought him to this breaking point, there is not enough of a reason for an audience to rationalize with some of his increasingly bizarre and illogical behavior.
The film has enough going for it primarily due to the effort of Whishaw. His performance is—both physically and verbally—one of pure commitment, and even as some of those aforementioned bizarre and illogical moments (not spoiling the specifics of them) are being carried out, his mental de-evolution is one we buy into. Seeing him work this great sans a strong script is unfortunate, but his work should land him on a few end-of-year recognition lists.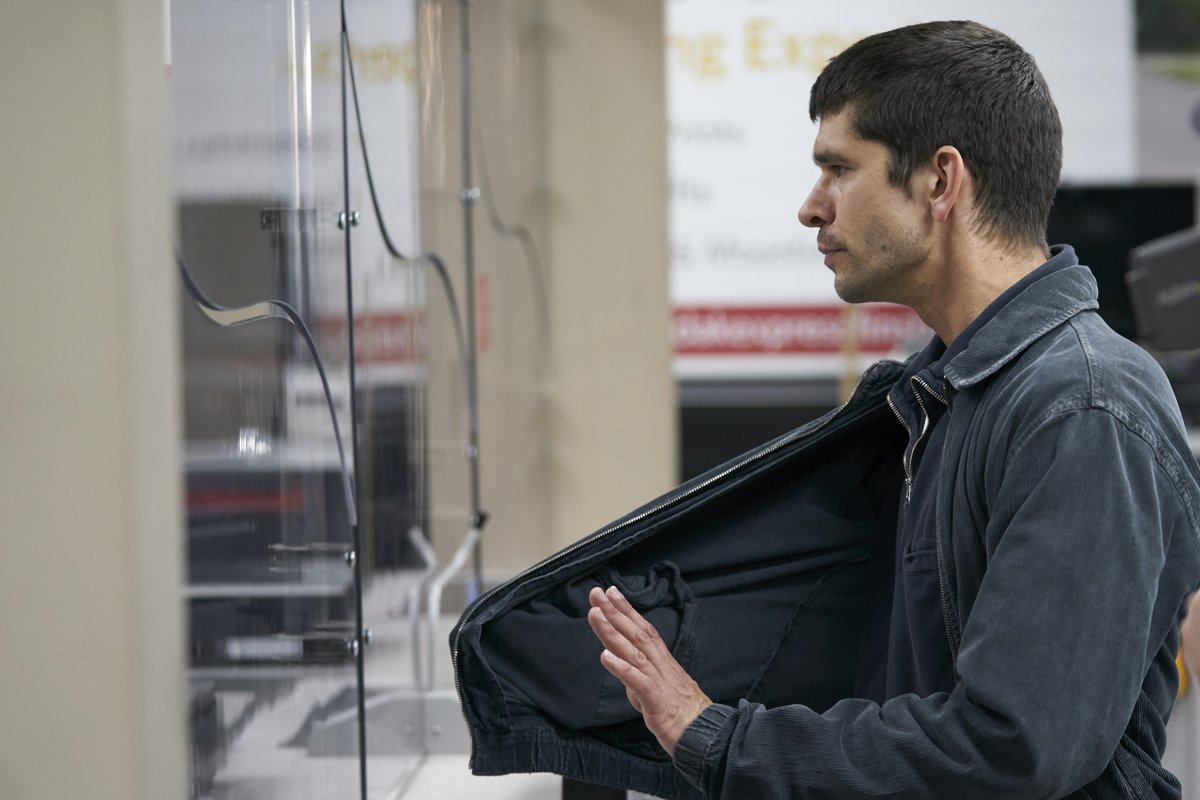 For the small group that manages to sees Surge, it will almost certainly be divisive. While its script is in need of additional heft that may kill the overall effectiveness for some (the leanness is felt most in the last 30 minutes), it is held together by a vigorous Whishaw performance, a reminder that the thespian is more than the technically proficient Q or the soothing voice of Paddington.
B-
Photo credits go to impawards.com, Twitter.com, flickeringmyth.com, and vertigoreleasing.com.
For additional detailed thoughts on films both small and large, games, and the key moments that comprise each, check out ThatMomentIn.com.
Feel free to follow me @MrJackMarkSon.