Power is ever-present, and many people strive for it, and only a few people ever hold it in an unassailable way.  Dallas professional Renesha (Brittany A. Hall) finds her person in a bar one night out with friends. The awkward but authentic Evan (Will Brill) builds a legitimate bond with Renesha. Sure, they come from two different racial backgrounds and aren't quite the match in complementary careers—Evan works as a tattoo artist while Renesha is finishing grad school and gaining experience in the droll corporate sector.
As a unit however, they are unbreakable. Now moved in together, Renesha is starting day one in her dream job of animal shelter fundraising. Her friend, Amber (Gail Bean) invites her out to blow off some steam. Quickly, they find themselves tag teamed by two men after some fun. One drink leads to many, and Renesha wakes up confused in the bed of one of them, Mike (Drew Fuller). Another victim of sexual assault, Renesha and Evan furiously drive from hospital to hospital looking for a rape kit, unaware of how many rules and regulations there are in place to make this urgent assessment difficult.
Test Pattern begins with a quiet but unfortunate bang. First time feature director Shatara Michelle Ford takes her viewers into a bedroom where nothing has happened yet, but the colors and the establishing shot foretell the impending doom. Ford bakes in the dread but doesn't wallow in it, because she knows that is only one part of the story to come, and it might even be the smaller one. Her direction is impressive as she relishes the unspoken over the spoken, whether that be Renesha peering out of a window, or the way Renesha waits on a late Evan outside as they meet his friends and family for the first time, each of these things a commentary of power or lack thereof. She alongside editors in Katy Miller and Matt Tassone use elapsed time and the occasional flashback (well used here) to reveal more into the Evan/Renesha relationship without the need to say "it's been X years/Y months." Their film is a smooth one without coming off as style-less.
Their film also covers a lot of heavy ground in a compact 82 minutes. The intersection of race, gender, law enforcement, rape culture, and healthcare all meet and are necessary to the story Ford has written. The through line through all those ideas in this movie is power and agency. To spoil little, the writer/director shifts the perspective on the act, providing Test Pattern an uncomfortable realization as it moves towards its final scene.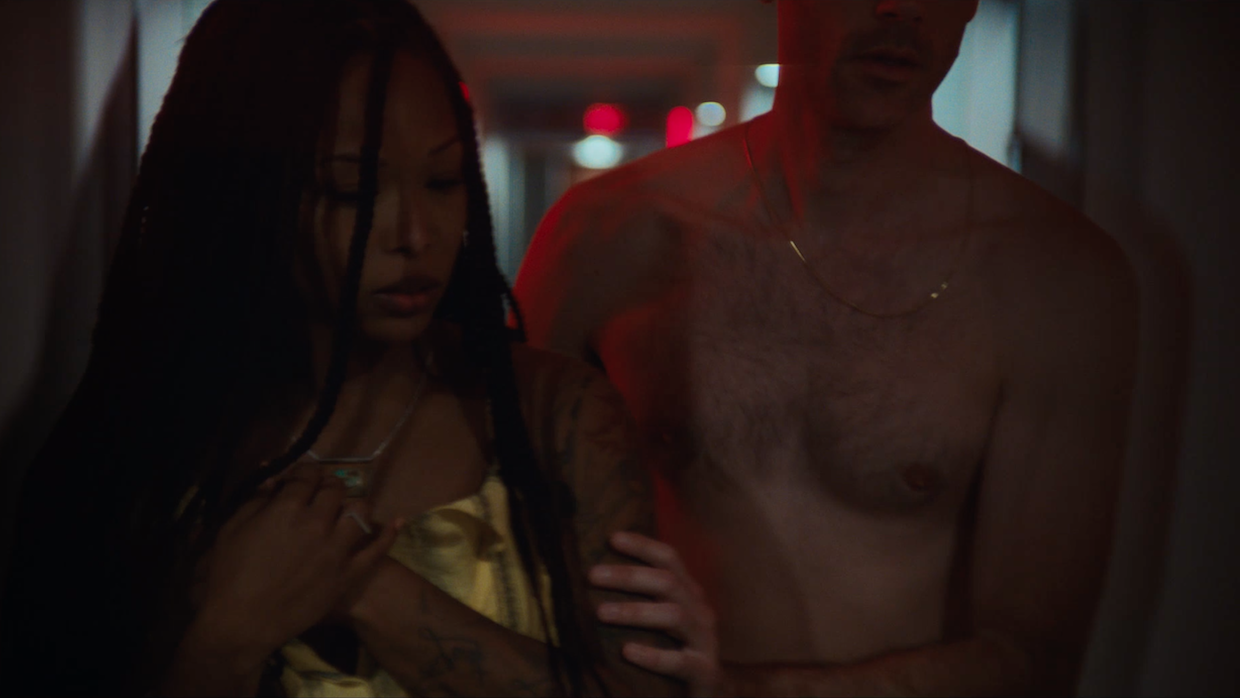 The emotion behind this shift wouldn't exist without the strong acting work from its two stars. This is a possible breakout role for Hall, known more at this point playing John David Washington's partner in Ballers. Her performance is more intuitive and body language-focused, coming to grips with how little she controls her day-to-day experience. Co-star Brill grows as the movie progresses in runtime, with the effectiveness of his performance hinging on a relentless belief in the actions he takes to be indubitably right…without hesitation, which is the point Ford makes in the story. Brill and Hall work together beautifully, having a noted chemistry with still a layer of invisible, unspoken separation that forever leaves the two characters they play distant with one another.
A test pattern is mostly known as a byproduct of an earlier time period, that colorful rainbow graphic card one would see on their television that suggested the viewer may need to manually adjust their signal. As far as the title of the movie goes, that meaning can be applied to Test Pattern as well. Tons of colors/components of society can and do all combine to create a signal that is in need of manual readjustment
B+
Photo credits go to impawards.com, IMDB.com, and filmmakermagazine.com.
For additional detailed thoughts on films both small and large, games, and the key moments that comprise each, check out ThatMomentIn.com. 
Feel free to follow me @MrJackMarkSon.