This Land is oh so beautiful…and oh so dangerous. It has been some indeterminant time since a heartbreaking traumatic incident wrecked Edee's (Robin Wright) life. This has impacted all levels of her existence, and it has made it impossible for her to function in normal human interaction.
Her solution is to get away from it all for good. Edee sells her home and gets rid of her car and even cell phone to start life anew in the mountains of Wyoming. Removed from all civilization, the land and scenery here is revitalizing. Just what the doctor ordered. Only problem is, she knows nothing about survival, with each harrowing incident sapping her spirit and bringing her closer to death. In the 11th hour, her path crosses with Miguel (Demián Bichir), a hunter in the right place at the right time.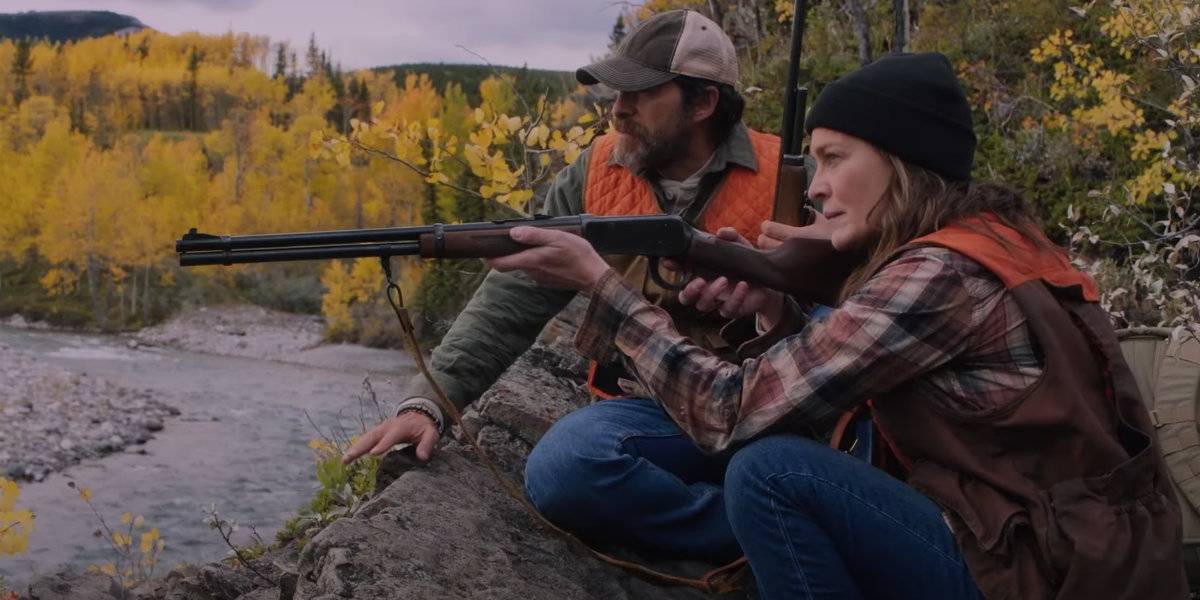 While it is not as if she's never been recognized accurately for her talents, there is, much like Carey Mulligan, a feeling that Wright is a bit underappreciated and not talked about enough. Or maybe, she's been around for 30+ years and we take her consistency for granted. Whether The Princess Bride, Blade Runner 2049, Forrest Gump, House of Cards, or Moneyball, her career has shown her to be capable of almost anything in front of a camera. Land sees her behind the camera for the first time in addition to her responsibilities in front of it, and it could be a new area of future focus for the past Golden Globe winner.
Wyoming isn't the place where the movie was shot, but Alberta, Canada does awfully fine moonlighting as so. Wright's debut is photogenically pristine, enthralling in all its expansiveness. She, with the contributions of cinematographer Bobby Bukowski, display why one would want to come to this setting and do a spiritual reboot. The duo also show the treacherous side of the open wild, whether that be Mother Nature having no feelings for a person's plight, or the terrifying moment of not only seeing one of the worst things said person could see out in the wild but dealing with the aftermath of a ransacked home. Static shots are the preference here over snazzy camerawork.
Co-written by Jesse Chatham and Erin Dignam, Land opts for a simplistic—yet impactful—story with a strong message. In life, it is often assumed that we can only really find ourselves when we go deep into our psyches and remove any and all internal/external distractions. This is the best way for some, the worst for others. Land seems to suggest the latter, in that digging out of a metaphorical black hole doesn't have to be a solo effort and sometimes, having someone to experience life with is all humans need, romantically or platonically (a refrain that is accurate in our time of COVID). The scriptwriters wisely avoid the obvious route that other movies would take in having its two lead characters interact. If there were one massive nitpick, the climax feels predictable, however, it puts an adequate bow on the journey coming full circle for Edee.
Speaking of Edee, Land is the first time in quite some time Wright has been the lead in a widely released feature. Her work here is more challenging than meets the eye, as she is playing a broken woman who hides her scattered pieces mostly behind a subdued mask. Wright could carry this movie in a Cast Away fashion, but the movie sticks better emotionally with the addition of Bichir, whose character is also broken like Edee but deeper along in his personal reconstruction. There's something so calming with the aura Bichir puts across the screen, as if as long as he was by your side, you could make it through hell itself because the advice he would give came from a personal place.
Clocking in at a touch under 90 minutes, Land leans into its natural setting and tells a story with a theme that'll connect with many. If directing is, well, the direction, Wright intends to go with more frequency, she definitely has fertile ground to grow in.
B
Photo credits go to impawards.com, awardsdaily.com, indiewire.com, and collider.com.
For additional detailed thoughts on films both small and large, games, and the key moments that comprise each, check out ThatMomentIn.com. 
Feel free to follow me @MrJackMarkSon.