Why does the phone need to be black? No idea, but imagine it sounds cooler than "The Cyan Phone" or "The Magenta Phone." The setting is Denver, Colorado; the year 1978. Young preteen Finney (Mason Thames) and younger sister Gwen (Madeleine McGraw) are extremely close. And they need to be, as they deal with an abusive alcoholic father (Jeremy Davies) and multiple bullies at school.
All of that would be difficult alone in its own right. Throw in a growing number of missing children abducted and unfound by someone only coined as "The Grabber" (Ethan Hawke), and it is hellacious. But at least Finney and Gwen have each other…until they don't. Finney is the latest abductee, awaking in a soundproof basement, with only the company of the macabre masked Grabber and a black phone of which The Grabber says is broken. Somehow, it works for Finney, who has conversations with The Grabber's past victims that may be key in aiding his escape. On the outside, Gwen has been gifted with visions that she hopes can locate her brother before he meets the same gruesome fate the others succumbed to.
As mentioned a few weeks back, sometimes the cleaner and more simplistic a synopsis, the easier it is for a movie to sell itself, maybe even more so for horrors and thrillers. For The Black Phone, a creepy masked killer abducting children in the late 70's with a mysterious phone in tow is a strong premise. Add in an always rock-solid thespian opposite two great child performances under the direction of a genre stalwart and you've got a pretty good studio movie.
That director? None other than Scott Derrickson, the person behind the great Sinister, a generally seen as underrated The Exorcism of Emily Rose, and a clunky yet still creepy Deliver Us From Evil. Perhaps like few other directors, he has a gift of visually melding the esoteric with the realistic, something that sounds easier on paper than in practice. Any great horror-thriller (Thrillor? Horriler?) usually starts with a fully realized setting and in each of his features Derrickson has been able to transport an audience into whatever time and place the feature happens in.
Whether it's the victim flashbacks shown in grainy footage (we only see one abduction happen cleanly) or the attention to detail with the schools, streets, after-school activities and just general societal happenings for that era, he along with the entire production crew makes The Black Phone feel fresh and fleshed out even as there's been a 70's resurgence with IP over the last few years. Through his manipulation of the camera and with an assist from editor Frédéric Thoraval, Derrickson builds great and occasionally routine-like stretches of fear, punctuated by a few jump scares that totally feel earned. Whether it is the stuff going on in the basement or outside, the movie never lacks for visual energy.
The Black Phone itself is an expansion from an extremely short story written by Joe Hill, son of famed Stephen King. While there's apparently a lot of faithfulness to the source material, that said source material being lean allows Derrickson and longtime writing collaborator C. Robert Cargill to fill the middle portions and character flourishes in their own vision.
The strengths of The Black Phone's script lies in its own personal experiences—and recalled demons—Derrickson pulls from and the uber-realistic dialogue. Cargill and Derrickson create compelling leads and an adequate arc for Finney, and lean into the "less is more" approach when it comes to the minutiae. Even in a dark story and setting, the duo write dialogue that is subtle and not exploitative. Anyone with deductive reasoning can put two and two together with the type of monster The Grabber is and the imagination is always more frightening than the visuals shown. Picking nits? Some of the supernatural elements with the titular black phone and its characters are missing wanted details, and though the 70's aren't quite the 2020's when it comes to technological advancements, a smidge of logic has to be buried to buy fully into the events on screen.
In totality, The Black Phone isn't a well-acted movie; some of the side characters are rougher than others. But where it matters most, The Black Phone is awesome performance-wise from its three leads. The hesitancy traditional good-guy Hawke had in portraying an entirely evil enigma is well noted at this point. One would never know this was his first real stab into being bad, and the film gives him ample opportunity to seemingly color between the lines and outside of them. The buzz coming out of this will be around Thames and particularly McGraw, who equally carry a lot of the drama and the heartbeat of the story. No matter how depraved and out-of-this-world events might be around Finney and Gwen, the grounding substance is their familial brother/sister bond, and the film surprised me at how much I cared about their relationship and respective fates.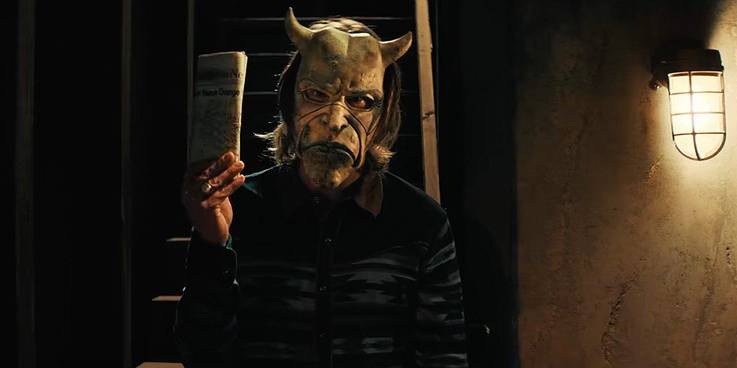 Featuring a familiar and effective Derrickson blend of true crime and terror led by a trio of cast members, The Black Phone is like that good phone plan that provides almost everything you want out of a provider, but is short on the one or two things which would make you say "this is everything I wanted and needed." Still, what it gives you is enough to be pretty satisfied when you hear about other's horror stories with bad service. Forced simile aside, The Black Phone is definitely destined to have a long, popular life after theaters and into streaming.
B
Photo credits go to screenrant.com, IMDB.com, and gatewayfilmcenter.org.
Feel free to follow me @MrJackMarkSon