The safest place to be in a snowstorm is inside…unless said place is occupied with an unknown suspect. How did we get here? Darby Thorne (Havana Rose Liu) gets word that her mother is in a Salt Lake City hospital due to a brain aneurysm. Of course she must see her, there is only one problem. She can't leave the clinic. Darby is a recovering addict.
Refusing to take no for an answer, she breaks out and makes the trek to Utah. A winter storm rolls through and impedes her progress. Darby has no choice but to take refuge at a visitor's center, where married couple Ed (Dennis Haysbert) and Sandi (Dale Dickey) along with Lars (David Rysdahl) and Ash (Danny Ramirez) are waiting out the inclement weather. Searching for cell service on the premises, Darby comes across a deserted van where a young girl (Mila Harris) is being held captive. Why? Most importantly, who? The suspect pool is limited.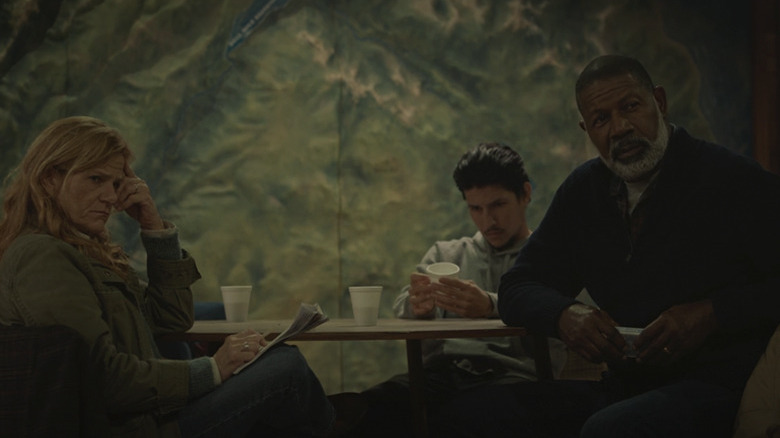 The thriller genre is a longstanding, interesting one. Within it, there are so many subgenres and specific offerings. At the genre's ceiling, transformational works like Seven and The Silence of the Lambs exist. More times than not, genre fans (i.e. myself) eat up the offerings, even if they tend to come with a high floor, low ceiling made on a shoestring budget.
Variety is the spice of life, doubly so in films. Expansive features are great, but sometimes it is a delight to spend the bulk of runtime in one predominant location. No Exit, directed by Damien Power, has bits and pieces of The Hateful Eight, Bad Times at the El Royale, and even (gulps) The Loft. Power embraces a micro-budget and creates adequate tension from the moment everything gets confined to the visitors center.
The standout scene might be the card game, a deliberately directed interaction which kills two birds with one stone, shedding light on each character's background while introducing why each could be a suspect. For the longest time, Power is content to play his film as a straight whodunit thriller, until the final act where things take on a light shade of grindhouse-esque horror. The shift brings finality, even if it isn't quite as well executed as what came before it.
On a narrative end, No Exit written by Andrew Barrer and Gabriel Ferrari makes a few tweaks based upon the novel source material, but overall, it is perfectly content being bare bones and dropping an audience in its mystery tale. Maybe more of a criticism of its source material than the script itself; certain character "deficiencies" seem to serve and be present for "ticking time bomb" plot acceleration instead of actual character depth. Nevertheless, No Exit knows what it is and is sneakily subversive with its reveal(s). In many movies, the reveal would kill momentum; here, the main reveal is merely the appetizer for the full course twists. One you'll see coming, the other caught me by surprise.
The main cast is miniscule, but a collective strength of No Exit, a mix of unheralded veterans and emerging talents like Ramirez and Rysdahl. This is easily going to be a breakout role for Liu, who is quite the commanding screen presence as her character wades through her own inner demons while doing her best to protect a young girl from the demons that exist externally. Dickey and Haysbert add a grizzled and centered element to the proceedings, particularly Haysbert. He is super compelling as this stern yet supportively subtle smart-ass.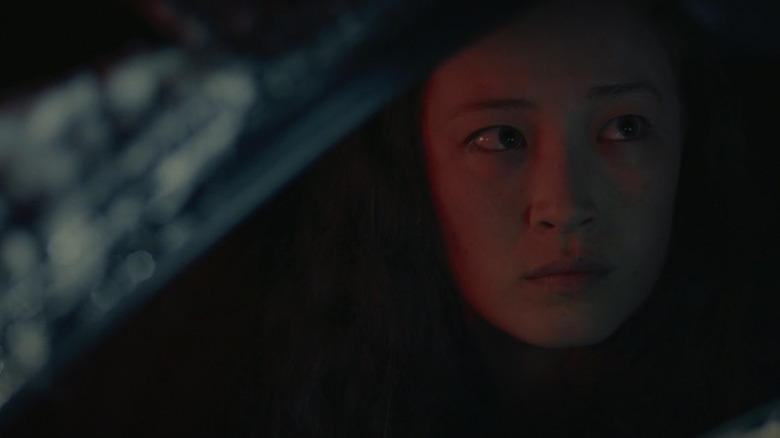 Returning to the mini-dissertation piece at the top, when these genre flicks are done solidly with an invested cast, deliberate direction, and enough narrative juice and twists, some of these movies fill quick cravings for, say, a Saturday afternoon or binge with that special someone. That is No Exit.
B-
Photo credits go to impawards.com, slashfilm.com, and vaguevisages.com.
For additional detailed thoughts on films both small and large, games, and the key moments that comprise each, check out ThatMomentIn.com.
Feel free to follow me @MrJackMarkSon.