"The modern world can be a bit bland. But Marc, he belongs in the 80's, the 70's." Who does that quote refer to? Marc-André Leclerc, a 23 year-old Canadian who has rapidly ascended—pun intended—to one of the world's most famous alpinists. That is a mountain climber to those out of the know, specifically mountain climbing that is "free;" no ropes and little if any safety measures in place if something goes awry.
After scaling some of Canada's most famous terrain, Marc's thirst for unencumbered thrills continues to grow and so too does his fame, despite Marc being one of the most fame-averse individuals. He doesn't own a phone, and generally has little interest in more material trappings. He is as pure as a "do it for the love of the game" individual as one could be in this endeavor. Nevertheless, two fellow alpinists and filmmakers in Peter Mortimer and Nick Rosen are drawn to following Leclerc and figuring out what gives him the impetus to do what he does—like tackle the towering Patagonia mountains without a shred of attention paid to him.
In The Alpinist, Mortiner and Rosen have the difficult task of capturing someone in their element who doesn't want to be captured. There is a bit of this documentary that feels icky. Okay, maybe "icky" is the wrong word as the duo toe that very fine line between intimacy and intrusion with their environmentally expansive drone/wide shots, and at the end of the day, Leclerc had to sign off on all of it. Still, it comes off as a tad bit unnecessary in the pursuit of filmmaking acclaim.
Though the subject himself is reticent to talk about himself, Mortiner and Rosen do achieve in The Alpinist by maximizing what Leclerc gives them in conjunction with what they're able to receive in succinct, yet very informational, tidbits of the type of character this extreme enigma happens to be and what brought him to the precipice of not only this career, but life choice.
Whether his girlfriend, fellow alpinist Brette Harrington, or mother Michelle Kuipers, they along with others paint the picture of their fascinating son, partner, friend, and the like as someone who deeply cares about the world, but is seemingly not of this world, either. The Alpinist touches heavily on what drew its subject to this activity in its various forms (rock and ice) and how he feels most at home and grounded when he is…many miles removed from terra firma. Fascinating and ironic juxtaposition? Absolutely. Many climbers scale mountains for the unique competitive components, but Leclerc and the film's directors are interested in talking about the spiritual and holistic benefits the activity offers. I didn't anticipate getting a 101 history lesson on alpinism. but I'm glad I did.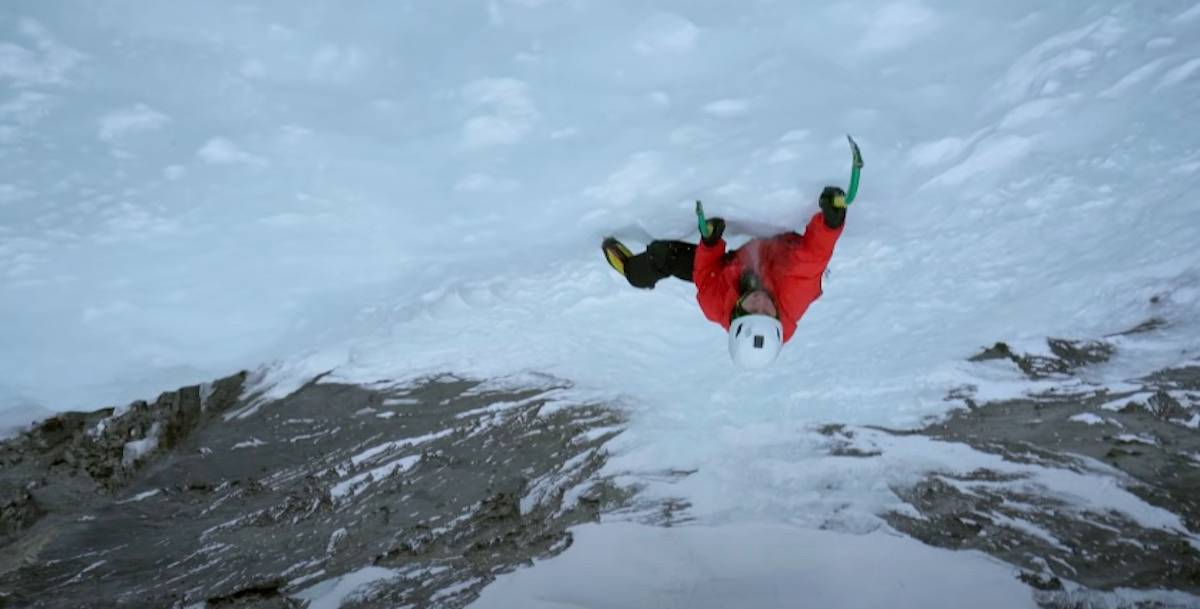 There is no attempt at distancing The Alpinist from what it will surely be compared against, that being the Oscar-winning documentary of Free Solo and its star subject, Alex Honnold. Honnold appears pretty early in the feature when asked who has caught his eye in the alpinism scene, that being one Leclerc. The filmmakers' use of Honnold in their documentary of The Alpinist is minimal, but intentional. These two exist in this niche world, yet that doesn't mean they're cut from the same cloth. The proverbial mountain(s) is big enough for both of them to share.
B+
Photo credits go to impawards.com, gripped.com, and collider.com.
For additional detailed thoughts on films both small and large, games, and the key moments that comprise each, check out ThatMomentIn.com.
Feel free to follow me @MrJackMarkSon.