Genre-wise, what is the comfort food of the film industry? Probably the romantic comedy. Don't scoff. Quite a few make their bones on traditional plot setups and happenstance, and as such, not many are worth remembering. But at their relative peak, you get something like Silver Linings Playbook, combining hilarious but not quite cartoonish laughs with notable emotion. Throw Crazy, Stupid, Love at the top of the heap as well, a movie coming up on its 10 year anniversary.
THE STORY: Love comes at you fast. So can divorce. The latter is where Cal Weaver (Steve Carell) finds himself; his wife of 20+ years and mother of three children in Emily (Julianne Moore) springing the statement of declaration on him during dinner. On the ride home, she even admits to sleeping with her co-worker, David Lindhagen (Kevin Bacon). Emotionally devastated though seeing no route for reconciliation, Cal begins the process of moving on. He has found a new apartment and has begun to frequent the local night hotspot in search of new women.
All of this is new to Cal, who has only dated and been intimate with Emily. His conversations always default to her infidelity, and even the resident player of the hotspot, Jacob (Ryan Gosling) cannot help but overhear all his interactions. However, Jacob takes an interest in the soon to be divorcee, vowing to reinstall his manhood and teaching him everything he knows in the process around picking up women. On the peripheral of Jacob's reclamation project is Hannah (Emma Stone) one woman that he failed to pick up and has on his mind despite obvious chemistry both ways. Throw in some additional characters, a six-way (?) love hexagon, and only one thing is clear in all of this: Love can make people do and feel crazy things.
WHAT TO LOOK FOR: Let's immediately say that there are a few story threads and themes in Crazy, Stupid, Love that felt off-putting in 2011 and have only aged worse a decade later. The whole 13-year-old kid Robbie (Jonah Bobo) pining after his 17-year-old high school babysitter, Jessica (Analeigh Tipton) that ends in risqué photos taken and given remains icky. And for the more cynical of us, the fairytale idea to "Never stop fighting for someone" sounds admirable in theory, but only breeds creepiness and entitlement when people get rejected.
Nevertheless, these problems are small and really only appear in the final act. By and large, the film is balanced on many levels. Written by Dan Fogelman and co-directed by Glenn Ficarra and John Requa, the humor is not lowest-common denominator targeted, relying more on the natural interaction of its cast members in awkward situations, and the emotion is never undercut as a result. The key characters are actual characters, and not simply caricatures filling space in a rom-com, making it easy to become attached to their journeys and self-evolution.
However, Crazy, Stupid, Love is strong as it is due to the cross-interpersonal chemistry shared throughout the cast. The central relationship that bleeds into everything else is courtesy of Carrell and Gosling. It's an easygoing but still weighty dynamic the two have with one another. They play to type to begin with until their roles are reversed, fueling the second half of the movie. Eventually, Gosling's Jacob finds his way to Stone's Hannah, and together, their pairing is probably one of the sweetest and effortless ones in cinema history. Easy to see why they needed to do another collaboration in La La Land (and Gangster Squad to a smaller extent). Supporting characters played by Bacon, John Carroll Lynch, and Marisa Tomei hew more closely to existing for hilarity's sake, but each have a major role to play in spurring the development of Jacob and Cal either directly or indirectly. For so many intertwined plots and characters, Crazy, Stupid, Love is not muddled.
A GREAT MOMENT: The easy and predictable selection would be the backyard scene that has Hannah and Jacob stamp their official appearance as a couple where Cal and Emily are on the verge of reconciliation courtesy of their children recreating their first date night as teenagers. What happens next is unbelievable hilarity that sees every major character and important minor character engage with one another. But for sake of being contrarian, let's go with the parent-teacher conference scene. In it, Cal and Emily await their son Robbie's teacher, who must inform them of an incident. In the interim, Cal and Emily have a heart to heart, with a now very confident Cal (he's seducing women left and right under Jacob's tutelage) revealing that while he's extremely angry at Emily's actions, he should have been more active in keeping the flame going during their marriage. It's clear that they both miss each other; Emily says as much.
The door swings open, and it is not what Cal was expecting, because he quickly sees that his son's teacher just so happens to be the first woman he slept with that wasn't Emily. Even worse, he has ghosted Kate (Tomei) up to this point following their sexual encounter and he never disclosed he was married. Professionalism goes out the window, and what was originally intended to be about Robbie transforms into Kate airing all diary laundry. A sickened Emily storms off in disbelief, and that is before he spills that he slept with nine women since their separation. It was all his attempts in trying to forget, but all he's found is that he's more certain than ever in he being Emily's soulmate and vice versa. This plea doesn't work, and Cal is left alone with the rain pouring in a perfect romantic movie cliché.
Even as part of this is played for big laughs (showcasing's Carell's versatility when paired with a good script to navigate different tones smoothly and quickly), this scene is poignant, with Carell doing much of the lifting emotion-wise. We have years now of the funny man showing his dramatic chops, but save for part of Dan in Real Life, this was a side of Carell that many were not sure he had in 2011, his last year as the longstanding Michael Scott in The Office. In this scene, you don't see a "funny man attempting to be dramatic." You see a man who has legitimately tried to forget his wife by becoming a womanizer—and is incapable of doing so. He makes Cal feel like anyone who has ever been in love only to have their heart ripped out and still be powerless to move on. Compared to other scenes, this is a less memorable one, but it is equally as important to the story.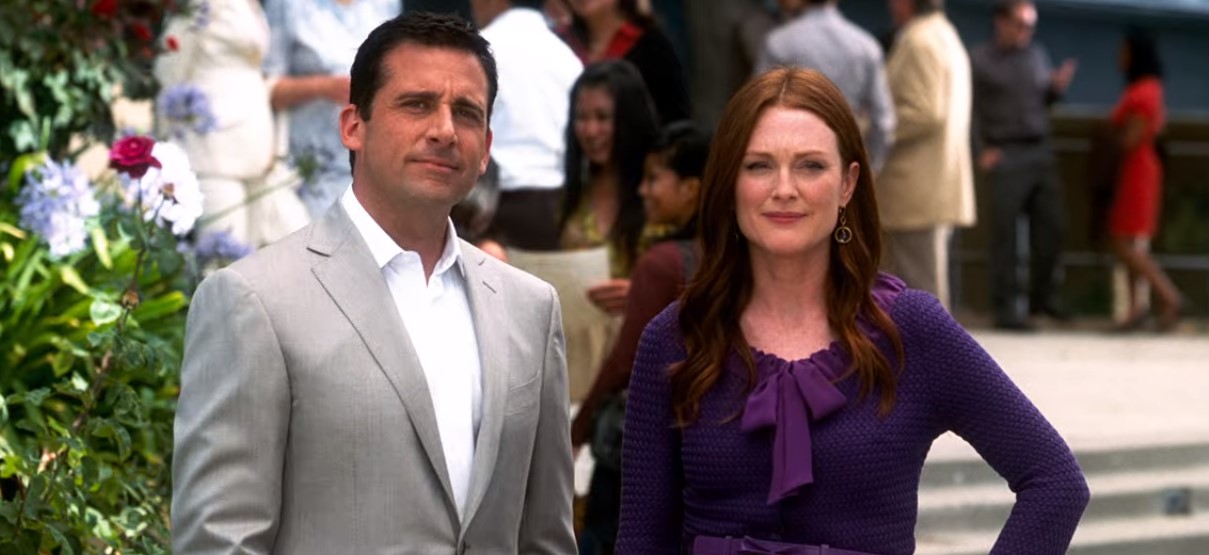 Crazy, Stupid, Love covers both desires for rom-com lovers at different times. Just feel like throwing something on in the background and following along casually? Easy to do here. Prefer getting all the way in and truly getting into the ups and downs of Cal and Jacob? That's an option, too. Creme brulee.
Photo credits go to impawards.com, thecinemaholic.com, thefilmagazine.com, and IMDB.com.
For additional detailed thoughts on films both small and large, games, and the key moments that comprise each, check out ThatMomentIn.com.
Feel free to follow me @MrJackMarkSon.