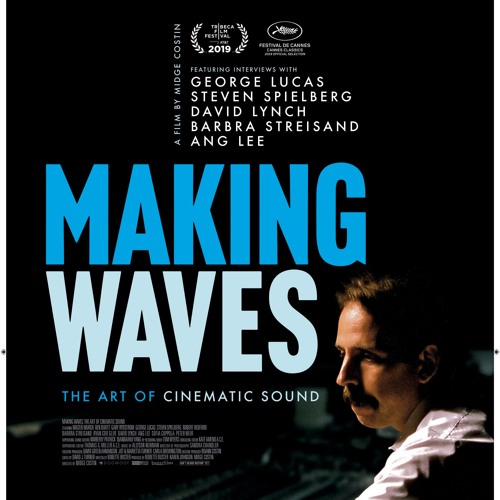 When's the last time you got mad at a YouTube video because the sound got removed from the visuals? Chances are, you probably ceased watching immediately after it was clear what was going on. Sound with no picture can be liberating and imagination-provoking, but a picture with no sound is good at best.  The great George Lucas once said that "The sound and music are 50% of the entertainment in a movie." With no music or sound, almost all the magic moments of cinema fall on deaf ears, as it's impossible to imagine any of them leaving the imprints they do. And yet, there's more to sound and music than simply getting an orchestra/synthesizer and tweaking the volume levels. A lot more. 
Making Waves: The Art of Cinematic Sound is a documentary directed by Midge Costin, a first-time director who has been deeply embedded in Hollywood working as a sound editor for notable 90's features in Hocus Pocus, The Rock, Armageddon, and Days of Thunder. It was funded pretty exclusively through Kickstarter, generating about $135K, and for the budget acquired (not a backhanded compliment), it's an extremely thorough 90 minute expedition through a critical component of cinema.
Costin and writer Bobette Buster start all the way back with silent movies to track the evolution of how the industry got to where it is today with regards to sound. Making Waves is as much of an infotainment exhibit heavy on science and history as it is an entertainment vehicle, which could be uneventful for some viewers, though a large contingent will find it eye-opening and nostalgic. It uses stories around some of the biggest all-time movies in Star Wars: A New Hope and Apocalypse Now to demonstrate the importance and common difficulties in those responsible for audio.
Learning about the minutiae on how "Foley" is interspersed, re-recording through ADR, the approach on how diegetic and non-diegetic sound are measured and deployed, and the creative process in gathering a score are all covered. To get the point across, Costin often runs the same scene with and without the analyzed effect. The basics of mono and stereo are even addressed as well. One will feel infinitely smarter after this documentary.
Costin and Buster's passion for this project is evident, and it surely had a part in getting some massive names to appear within the documentary. Lucas, Steven Spielberg, Ang Lee, Barbra Streisand, David Lynch, Christopher Nolan, and Ryan Coogler are but a few names on the filmmaker end who opine on their past experiences with sound personnel and what they love so much. However, most of the attention is rightfully on the sound editors, mixers, and the like. Ben Burtt and Walter Murch (who share their condensed life stories) along with others such as Anna Behlmer (Braveheart), Ai-Ling Lee (La La Land), and Bobbi Banks (Selma) provide details that lift the mechanical veil of the auditory moviemaking process. Who appears here is impressive, yet it's hard to not think of who isn't present. If he were still alive, it would have been amazing to see Jóhann Jóhannsson talk about his methodologies. John Carpenter also, who juggled composing Halloween with writing and directing it, and probably had some sizable say in how the production sounded.
Any average moviegoer knows the importance sound plays in the total package effectiveness (or sometimes ineffectiveness) of what they see. But Making Waves: The Art of Cinematic Sound truly gets into the who, what, where, when, why, and how of it all. Sound doesn't exist in a vacuum, and modern movies today don't exist without any trace of it.
B+
Photo credits go to soundcloud.com, and speedmuseum.org.
For additional detailed thoughts on films both small and large, games, and the key moments that comprise each, check out ThatMomentIn.com.